Window science | UDaily – UDaily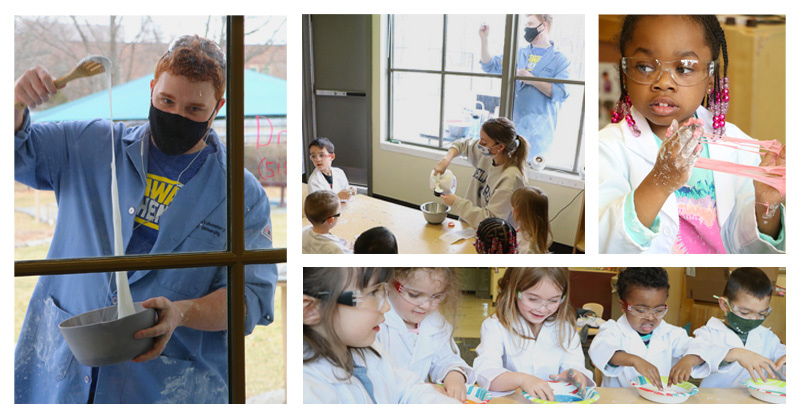 When children are learning, things can sometimes get a little messy.
Like on a sunny spring morning in the preschool classrooms at the Early Learning Center, located on the University of Delaware's Children's Campus, when groups of children aged four and five gathered around metal bowls to practice mixing recipes, a common method of teaching science and math in preschool.
The children were very excited about the next recipe:
½ teaspoon baking soda

¼ cup water

⅔ cup of Elmer's glue

2-3 cups of foam shaving cream

1.5 tablespoons of contact solution

Food coloring of choice.
The children, dressed in lab coats and safety goggles, followed the steps and mixed the ingredients together in the large bowl, with a little help from the teacher, to create a thick foamy slime.
"I feel like my brain is super, super happy," said Keegan, a young child.
His friend Ahmet replied, "I feel like my brain is going to explode!"
Shrills of childish glee at another table suggested the students over there had just finished their batch of gooey slime.
"This feels like duck legs," said Darla, holding a firm, solid putty.
As the children and their teachers mixed their slime, on the other side of the window, standing outside in the fresh spring air, Tyler Van Buren, a UD mechanical engineering assistant professor, spoke through a microphone and guided the class through the experiments, using the large classroom windows as a whiteboard.
Van Buren calls it "Window Science," and it's a safe yet fun way for scientists to collaborate on learning activities with learning facilities while minimizing the likelihood of spreading the coronavirus.
Van Buren wanted the children to play with slimes because mixing a recipe requires learning some basic math — like measuring, counting and following directions — but also because slimes challenge tidy scientific notions like the stages of matter. The slimes these children created are called "polymers," which have characteristics of solids and liquids.
"Children grow up learning that things are either solid, liquid or gas, and then there are things that can behave like one or another, depending on the situation, and slimes are a good example of that," said Van Buren. "Plus they're just fun to play with."