WATCH: Education director shows science is for grown-ups, too – Hot Springs Sentinel
Mid-America Science Museum Director of Education Casey Wylie shook things up at Hot Springs National Park Rotary on Wednesday with some audience-participated science lessons.
"One thing that Rotary likes to do is show off what the different people get to do, and Mid-America Science Museum is unique in that my job is I get to have fun," Wylie told The Sentinel-Record. "So I love going and doing stuff like that to show that science demonstrations and science fun is for grown-ups just as much as it is for kids. And we all need to treat it with a little bit of fun so it's not scary."
Video not playing? Click here https://www.youtube.com/embed/OFKPja_0_8w
Usually teaching kids, she said it's a lot of fun to switch things up and teach adults.
"Adults tend to be a little more reserved; you've got to pull them out a bit," Wylie said.
"My favorite thing to do," she said, "is when we have a wedding here (at MASM) … you can add a Tesla Show, and … there is nothing more fun than a slightly tipsy Tesla Show with a whole bunch of nerdy adults. It's the best! They have the best time, because we're all still kids.
"In fact, I ran into a couple, they were on a date, they were 21, and they were like, 'We're just a couple of 21-year-old's at a science museum!' And I was like, 'Heck yeah, have a great time, it's for all ages.'"
Wylie said the world divides itself into two different things at an early age: "either you're in science, or you're not."
As a kid, she fell into the trap of not being "into science," even though she enjoyed it, because she did not like math.
"I was super into science as a kid … until about sixth grade. And all of a sudden science involved this thing called math, who was not my friend, and society kind of says either you're into music and literature and art, or you're into science and math."
She said oftentimes people learn some rudimentary science in elementary school, but then nothing else.
"Which is a shame because science is literally everything; it is the blueprint and explanation of our world, and it blows my mind, every day I learn something and I go 'Oh my god, I never knew, that is so freakin' cool,'" she said.
All that being said, adults are never too old to start learning science, she said. After all, she hopped back aboard the science train when she got older, and now makes a living out of it.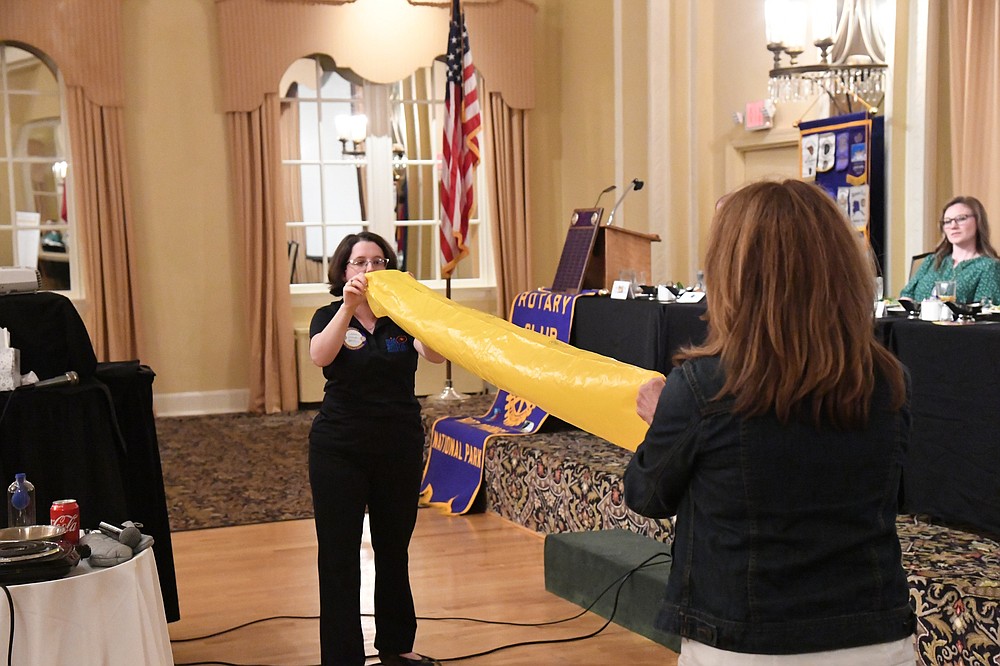 Casey Wylie, director of education at Mid-America Science Museum, does a science demonstration with Diane LaFollette, executive director of the museum, at Hot Springs National Park Rotary Club on Wednesday. – Photo by Tanner Newton of The Sentinel-Record