USF's Kelly ready for new challenges in college sports – Bay News 9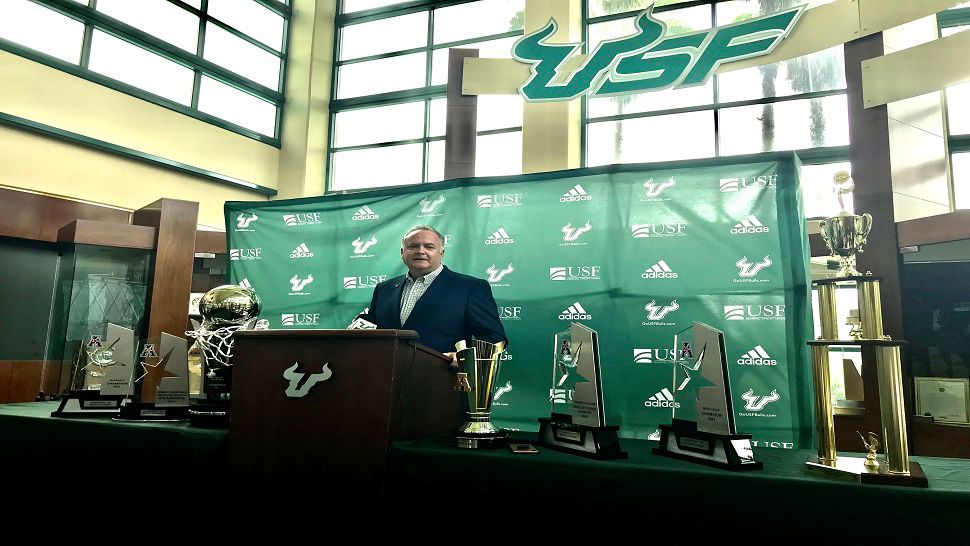 TAMPA, FL – It was quite the year for USF Athletics.
"Ten American Athletic Conference team or individual championships; nine national postseason appearances," said Michael Kelly, who is entering his fourth year as Vice President of Athletics at USF.
"Winning is contagious here in 'Champa Bay'," said Kelly, who was sure to bring all of his teams' trophies to show the media. "We have seen a lot of it here at USF."
Michael Kelly has a lot to be proud of. Despite a global pandemic, he oversaw an athletic department that managed to be one of the most successful in its conference.
"We at USF Athletics believe in "BULLIEVE" and it's been a great year to accomplish many things under the circumstances," boasted Kelly.
Even with so many sports succeeding, the two most popular teams – football and men's basketball – fell flat. On the court, Brian Gregory's squad went 9-13. Following the season there was an investigation into alleged racial comments from an assistant, and eight players transferred out of the program.
"We were on a good success path until hitting the speed bump this year," Kelly said. "I didn't quite measure up to what we thought this year, but I feel the recruiting we have done and as we move forward, we're going to be well positioned in that."
On the football field, Jeff Scott's first year was forgettable. Going 1-8 in a season riddled with COVID issues, it's hard to judge Michael Kelly's most important hire. Kelly sees bright days ahead under Scott.
"I believe with every fiber in my being that Coach Scott is going to lead USF to a conference championship," said Kelly. "It's just a matter of when."
Kelly isn't just dealing with his teams, but also the changing landscape of college sports. On July 1st, Name Image and Likeness laws went into effect across several states throughout the nation. Student-athletes can enter partnerships with businesses for profit. Kelly knows the importance of educating every young person in his athletic department.
"It is still different than just getting a check for cost of attendance," Kelly explained. "You do have to kind of set up your own business, capitalize your own personal brand, and there are going to be undetermined limits of what we can do for them.
Some are concerned this could lead to bigger programs getting a bigger advantage. Wealthy boosters and businesses are already jumping in to help their favorite teams land prized recruits.
"Reality is that maybe the rich get richer, and that is just kind of the facts," said Kelly. "I don't concern myself with what everyone else is doing.
One thing Kelly is keeping a close eye on is the proposed expansion of the College Football Playoff from four teams to 12 as early as 2023.
Before coming to USF in 2018, Kelly was the Chief Operating Officer of the Playoff.
The four-team format has held a members-only feel with Power-5 programs. Kelly believes this move to expand would allow the USF's of college football to actually feel like they could make the Playoff.
"Was it technically true that Coach Scott could sit in front of his guys and say 'you can make the football playoff?' Yes, it was technically true," said Kelly. "Was it an extremely tough putt? Yes. But now, you can look at them in the eye and say 'guys, with the schedule we have set for the next ten years, we put ourselves in position to win The American, there is a very good chance that we're going to the College Football Playoff and that's big-time."
Michael Kelly is an optimist. He believes the best is yet to come for the Bulls. With a championship mindset, Kelly sees his programs taking off and competing for titles for years to come.
"We're trying to build a vibe here that people want to be apart of USF Athletics, they can't wait to be part of what is being built here and what is being built in Tampa Bay in general," Kelly said.