UMaine composites center chief promotes new technology before US Senate – Mainebiz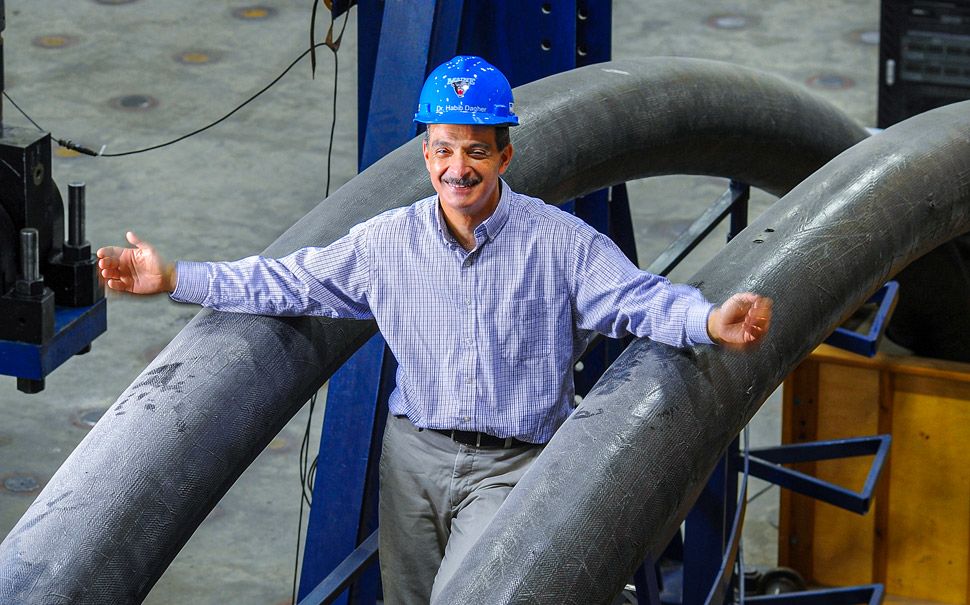 The University of Maine stepped onto the national stage Thursday during a U.S. Senate subcommittee hearing on the resiliency of the country's transportation system.
Habib Dagher, executive director of UMaine's Advanced Structures and Composites Center and director of Transportation Infrastructure Durability Center, appeared before the Senate's Transportation Appropriations Subcommittee at the invitation of U.S. Sen. Susan Collins, R-Maine.
He was one of four transportation and infrastructure experts offering testimony on how to protect the nation's transportation infrastructure in the face of climate change.
Dagher's focus was on new building techniques and materials in development, under his leadership, to extend the life of critical public works and make them more durable and sustainable, using low-cost, high-performance structural composites for construction.
The Transportation Infrastructure Durability Center is conducting over 40 federally funded research projects across Maine and New England, all aimed at increasing the life of transportation assets, and developing designs for more durable, sustainable and resilient roads, bridges and port facilities.
Dagher provided examples of four composites materials projects UMaine has carried out in relation to transportation infrastructure.
• "Bridge in a backpack" consists of lightweight composite tubes compact enough to fit in a bag. When removed and inflated, they're bent to an arch form, and infused with a resin that ultimately results in a hollow tubular arch stronger than steel. They're filled with concrete as part of a bridge structure, which also incorporates a composite deck. The bridges have been commercialized and used in over 30 bridges. They require little maintenance and are designed for a 100-year life. The technology reduces life cycle costs, reduces carbon footprint by approximately 50% and accelerates bridge construction.
PHOTO / COURTESY UNIVERSITY OF MAINE
UMaine's Bridge in a Backpack concept.
• Composite U-shaped "tub" girders can support the decks of large highway bridges. They weigh as little as a quarter of weight of steel girders, are designed for 100 years, and nest together reducing shipping volume.
• Modular deployable floating breakwaters can be deployed before a storm arrives to protect coastal assets or coastal operations, then removed afterwards. They self-adjust to water level and come in a modular design that's easily stored, then assembled for rapid deployment when needed. The technology uses bio-based 3D-printed materials. This year, a 75-foot prototype breakwater will be deployed offshore Maine to test the ability to reduce certain levels of wave energy by as much as 50%.
• Bio-based 3D printed culvert diffusers are designed to reduce roadway storm damage. When corroded culverts are re-lined, the flow is restricted. The diffusers can increase the flow by 40%, mitigating roads washing-out after storms. Large scale 3D-printing technology enables rapid manufacturing of the complex-shaped diffusers at half the cost, using bio-based materials. Increasing drainage flow can avoid millions of dollars spent in complete culvert bridge replacements. The first 3D-printed diffuser is scheduled to be installed in Maine this summer.
Once-in-a-lifetime
In his testimony, Dagher said the four examples "are key to achieving a cost-effective, resilient transportation system of the future."
He continued, "We can't keep building it the same way and expect a different result. As we rebuild our roads and bridges, we have a once-in-a-lifetime opportunity to use more durable, more sustainable advanced materials including composite materials."
Dagher said the Innovative Materials for America's Growth and Infrastructure Newly Expanded Act, or IMAGINE Act, introduced by Collins and U.S. Sen. Sheldon Whitehouse, D-R.I., in March, would facilitate further research and development.
According to a news release, the bipartisan legislation is designed to encourage research and deployment of innovative construction materials in transportation and water infrastructure projects nationwide. (See sidebar.)
Invest in R&D
"The summary is, please invest in R&D," Dagher said. "That's how we'll build better transportation infrastructure in the future."
In follow-up questions, senators mainly wanted to know how new investment would be offset by savings.
Dagher suggested that work underway by the transportation center could be extended by creating grant program for demonstration projects of new technologies. The technologies, he said, help reduce environmental footprints because they're easily produced, easily deployable, easy to transport and last much longer than traditional infrastructure technologies.
New technologies cost more to begin with but result in savings through their life cycle, he said. Dagher proposed the implementation of life cycle analyses in infrastructure planning as a matter of federal policy.
"That's when the new materials start to shine," he added.
In addition, he said, it's expected that new construction will save more money than rebuilding old infrastructure.
"We're developing designs for materials that will last 100 years."
Dagher's testimony came two months after President Joe Biden in March unveiled a $2.3 trillion infrastructure plan, called the American Jobs Plan. From bridges to broadband, it aims to modernize transportation infrastructure nationwide and could mean significant new investment in Maine.
Dagher has previously appeared before Congress to testify on the center's work. And in 2015, he was recognized by the White House as one of the nation's top transportation innovators.