Technology is the Future: Why Technology of Tomorrow May Already be Operating in Some Fields Today – Agweb Powered by Farm Journal
Robots swarming and taking over farm fields. Autonomous tractors planting crops with no humans in sight. These futuristic views of technology that surfaced a decade ago may actually be a glimpse of what's already reality today.
John Deere's purchase of Blue River unlocked a step toward autonomy. While the sprayer still requires a human to operate the system, the "see and spray technology" is just that; using artificial intelligence to only spray when weeds are present.
"We're seeing on average a 77% reduction in chemical use on those fallow ground acres," says Joel Basinger, Marketing Manager with John Deere.
It's technology that Scott Shearer, Professor and Chair of the Department of Food, Agricultural and Biological Engineering at Ohio State University, is watching closely.
"They've been reporting that with their ability to target spray application to vegetative matter or weeds, whichever the case may be there, we're seeing herbicide reductions of 70 to 80%," says Shearer. "That was from the CTO of John Deere. That's going to drive farmers to begin thinking about automation a little bit differently than we have before."
The concept of machine learning is one that could be the base for more ag tech advancements in the years ahead.
Autonomy at Work
"[It's] a brand new autonomous platform for scout and apply based on the site-specific insect incidence and severity," says Ajay Sharda, associate professor in the biological and agricultural engineering department, while standing in the front of an autonomous vehicle crafted by researchers Kansas State.
Packed with powerful technology to scout fields, it could take the place of a traditional sprayer that farmers operate today.
"We are going within the rows. We can see the plant up close, we can see the underneath of the leaves. And we can assess what the crop needs, whether it is chemical or insects and amino management," he adds.
It's one machine to not just scout fields but make decisions on the go and apply what's needed by navigating fields with intelligence via sensors.
A Solution for Ag's Labor Woes
Technology tools like this may also relieve one of the biggest pain points for farmers: labor woes.
"Can I replace labor with potentially technology, whether that's scouting from inside so I don't have to send someone to the field?" asks John Fulton, professor in Food, Agricultural and Biological Engineering Department at the Ohio State University. "We're talking about automation into machines, almost robotic. So is there a time in my operation where I might have a machine that drives itself? We're seeing that."
The June Purdue/CME Ag Economy Barometer found nearly two-thirds of respondents expressed either some or a lot of difficulty hiring adequate labor, compared to 30% in 2020.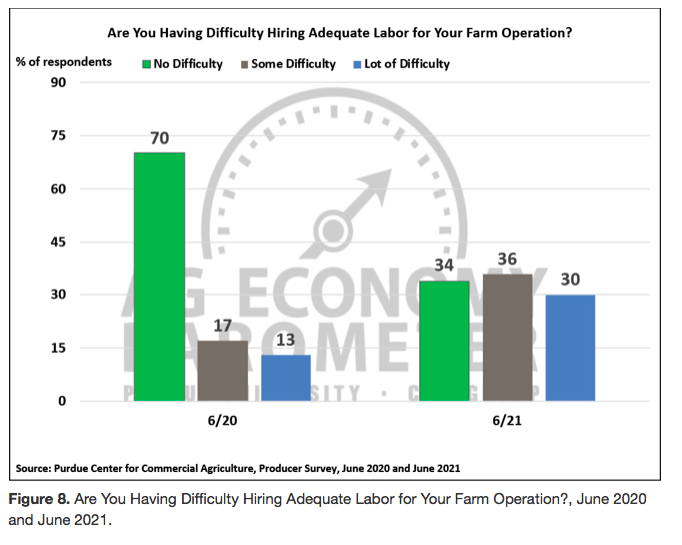 While robotics are already reviving hopes in the sectors heavily reliant upon labor like the produce sector, Scott thinks some of that investment and focus may make its way to the Midwest soon.
"When I begin thinking about automation agriculture, I think the business models might change quite a bit as well," says Shearer. "And specifically, farming as a service is a term that I'm beginning to hear more and more—kind of software as a service, but farming as a service. In other words, farmers contracting with these companies for performing these automated functions within their fields."
Rantizo, a company that uses drones to spray crops, is bringing technology-based solutions in traditional row crops as well.
"With traditional application, you end up spraying the entire field, but for Rantizo, our specialty is actually site-specific application," says Dudley Stevens, director of strategy, Rantizo. "So instead of spraying the entire field, you can save money time, and actually chemical usage, water usage if you go and attack those specific spots."
Already based in Iowa, Rantizo's technology can fly and apply everything from pesticides to micronutrients, even interseeding cover crops. And Stevens thinks the momentum is turning in the ag tech sector, which will propel the growth.
"Since 2016, some ag tech companies have gone, and some are restarting and rebooting," says Stevens. "We feel that technology in the ag space is really just going to ramp up with more investment, more adoption."
Another Midwest-based ag tech company is Taranis. Based in Indiana, Taranis works with ag retailers to use precision technology and drones to scout fields.
"We bring insights, actionable leaf level precise insights, from their fields to their mobile app or to their computer in ways where they can actually just take action," says Mike DiPaola, Chief Commercial Officer, Taranis.
While Taranis isn't necessarily new, it's an ag tech company that is growing and finding its stride by moving to the Midwest. DiPaola says by using aerial imagery and artificial intelligence driven technology, the Taranis platform can cover more than 100 acres in just six minutes.
"We can do it at sub millimeter resolution, which means you can act on it, our deep learning with artificial intelligence and computer vision. While it's not all new, it gets better every year. We have over 50 million images at high resolution," he says.
While Taranis says the tool is helping farmers, it's also easing some of the scouting pressure on ag retailers today, as those retailers are also diving into the digital evolution in ag while continuing to search for the skilled labor to do so.
"In agriculture, we use Amazon, we use Google. Farming is going under the same evolution," says Fulton. "So I think farmers want to be recognizing that."
Advancing Adoption in the Midwest
The biggest battle for ag teach in the near-term will be the rate of adoption. And while Shearer says he sees high-horsepower fixed frame tractors being part of Midwestern agriculture for years to come, as the technology becomes more affordable for farmers the cost element could be less of a sticker shock—especially as technology acquisitions occur by some of the big players in the ag equipment sector.
"One of the things I'm seeing when I look at Swarm Farm out of Australia, it's a bit of a different agricultural situation, as they're spraying multiple times during the year to conserve moisture. And what they want to do is kill the vegetative matter, so that it's not using water stored in the soil," he says. "Their situation is a bit different, but on the other hand, the cost of spray application is approaching about $1 an acre for this automated sprayer. And so that is a bit of a game changer. And I think the economics are going rule at the end of the day."
Another obstacle may be scale. Shearer says as long as equipment continues to get larger, automation will be limited on a large scale in the Midwest.
"One of my concerns today is as long as we still have human operators on equipment, equipment is going to continue to get larger and larger. I also think there's a penalty being paid because of what's happening with the soil health associated with soil compaction. I keep thinking that soil compaction might be one of those driving factors that cause people to automate, so that we can scale down the size of the equipment," says Shearer.
Data-Driven Decisions
Maple Park, Illinois, farmer Steve Pitstick says while the concept of data has been around for decades in agriculture, there's still a disconnect for most farmers on not only how to harvest the data but then how to activate decisions based on that information.
"I think over time, as we get more data and the companies get more data, I think what will happen is a company like John Deere or even Climate will use machine learning and sort through a lot of this data to give us more insights that we can't do on a small scale," he says.
From selecting seed to making marketing decisions, Pitstick says those decisions will become even more precise in agriculture.
"Can you do a predictability based off of history? We've had these weather conditions and this will be the outcome, just looking at the fact it's all data," he adds. "So just crunch the numbers, run it through and see what the outcome might be."
While the decisions may be driven by data, some of these decisions may also stem from automation.
"If we can automate that process of cleaning yield monitor data, if we can automate the process of analyzing data, then that's going to be the key to the future," says Terry Griffin, Precision Agriculture Specialist, Kansas State University.
Decisions Down to the Row
A Farm Journal technology survey found today, 77% of farmers say they don't currently collect detailed machine data, such as transport time and fuel use—and it's an area that has room to grow.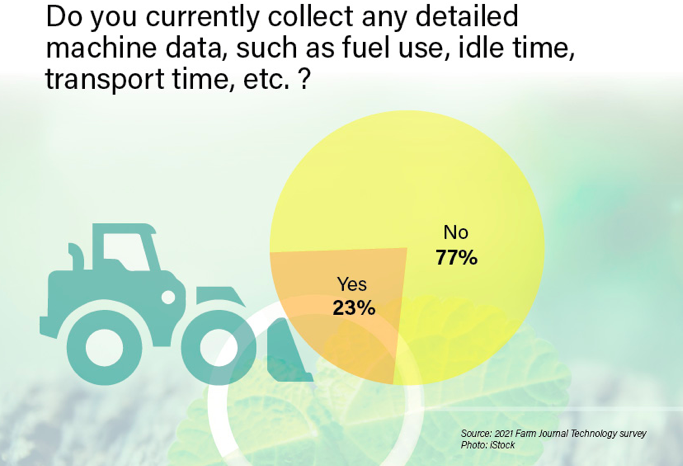 From big picture ideas to future decisions made row by row, the future of ag tech may not just be what's on the horizon, but fine tuning information technologies and algorithms already available today.
Instead of big picture thinking, he thinks tomorrow's technology will drill down row by row.
"I think we can get down to maybe row by row on our corn heads and looking at what machine impacts are—what the planters do, what the tillage passes do look at. A lot more minor data, if you will. We have to get the big data right first, and then we'll move down to the smaller stuff that we can actually affect," says Pitstick.
Since May, Farm Journal has been taking a deep dive into technology of today and tomorrow. Read more of Farm Journal's "Technology Is _______" series here.