TCU Featured on 'The College Tour,' Streaming on Amazon Prime – TCU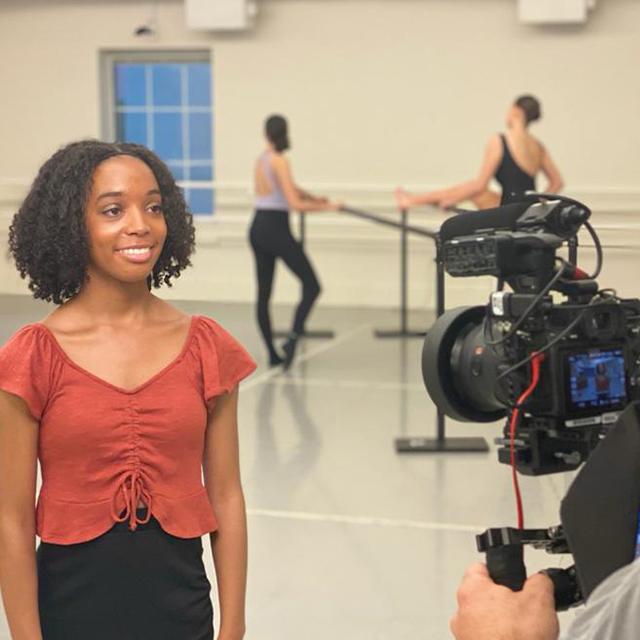 October 13, 2021
Seniors nationwide are deciding where to spend the next four years as college application deadlines quickly approach. "The College Tour" is a new series that helps students navigate college choices and get an inside look at campuses around the country from the comfort of their homes. Six Texas colleges have episodes in production so far, and TCU leads the way as the first North Texas school to be featured in Season Two, streaming on Amazon Prime in early November.
TCU will host an on-campus premiere party Oct. 19. Special guests for the event include TCU Showgirls, SuperFrog and Alex Boylan, past winner of "The Amazing Race" and host and producer of "The College Tour." There also will be a virtual watch party at 6 p.m. Oct. 20 hosted on TCU's Facebook Live. It will also include Boylan and featured students.
"The idea for 'The College Tour' TV series came to me from my niece. Because of the pandemic and finances, she wasn't able to travel to tour colleges," Boylan said. "So we created a series inspired by her and millions of other young people who are interested in attending college."
Episodes for 48 universities across the nation are live or scheduled. The six Texas schools include: TCU, University of North Texas, Baylor University, The University of Texas, Sam Houston State University and St. Edward's University.
TCU's episode focuses on the university's spirited and supportive campus culture through the eyes of 10 students:
Erin Banks, a ballet and modern dance major from McDonough, Georgia
Emily Citarella '21 from Atlanta, who earned her bachelor of science in strategic communication with a general psychology minor
Erika Rebollo Diaz, a computer science major and mathematics minor from Frisco, Texas
Cort Ewing, a biology major and general business minor from Colleyville, Texas
Anya Ivory, a journalism major and general business minor from Fort Worth
Nand Javia, a business information systems and finance major and physics minor from Vadodara, India
Ryan Marks, a sports broadcasting major and business minor from Laguna Niguel, California
Collin Pittmann, a journalism and theatre major from Spokane, Washington
Allyson San Roman, a child development major from Orange, California
Paige Shiring '21 from Houston, who earned a bachelor of business administration in finance
Diaz filmed a segment for the episode about experiential education at TCU. The STEM Scholar and honors student is the founding president of the new TCU chapter of Kappa Delta Chi Sorority Inc.
"I fully believe that you can get anything that you want through TCU's resources," Diaz said. "I have already been able to do so much and there is always an open door for those looking for new opportunities at TCU."
TCU's episode is now available on IMDb TV, YouTube, The College Tour website and on streaming apps.