SUNY Geneseo Sports Hall of Fame Class of 2021 Inducted – The Livingston County News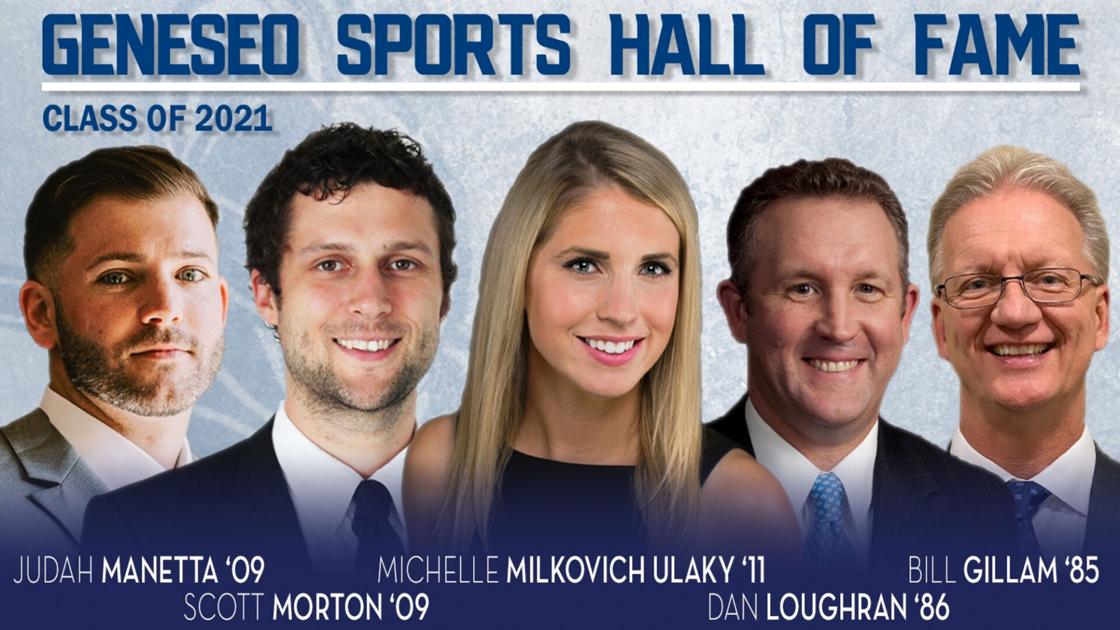 GENESEO, N.Y. – The SUNY Geneseo Department of Intercollegiate Athletics and Recreation inducted the five-member Class of 2021 into the Geneseo Sports Hall of Fame on Saturday, Nov. 13, 2021.
The Geneseo Sports Hall of Fame Class of 2021 included men's basketball star Scott Morton '09, men's soccer standout Judah Manetta '09, field hockey All-American Michelle Milkovich Ulaky '11 and ice hockey teammates Bill Gillam '85 and Dan Loughran '86.
Manetta, Milkovich Ulaky, Gillam and Loughran, along with several friends, family members, teammates and fellow alumni attended the induction ceremony while Morton and his family attended digitally from his home in Luxembourg, where he plays professional basketball.
Assistant Director of Athletic George Gagnier '88 served as Master of Ceremonies while President Dr. Denise A. Battles gave opening remarks.
A native of Syracuse, N.Y. and graduate of Westhill High School, Morton completed his Geneseo career as one of the best all-around players in program history. He graduated third and now stands fourth all-time in scoring (1,513 points), second in assists (447), third in blocked shots (136) and graduated 15th and now stands 17th in rebounds (541). A finalist for the Jostens Division III National Player of the Year in 2009, Morton earned second team All-American, the SUNYAC Player of the Year, CoSIDA first team Academic All-American and the Ira S. Wilson Award as Geneseo's top male athlete. Morton earned SUNYAC Rookie of the Year in 2005 and claimed All-SUNYAC honors in each of the succeeding three seasons, twice earning first team recognition, was a two-time All-Region selection and two-time All-ECAC choice. In addition to his on court accolades, Morton excelled off the court as evidenced by the receipt of the SUNY Chancellor's Award for Student Excellence given to just four students each year at Geneseo, the SUNYAC Scholar-Athlete Award for men's basketball and Geneseo Athletics' Outstanding Male Contribution and Leadership Award. With all of that said, Morton is specifically remembered for his December 2, 2008 diving buzzer beater vs. Oswego that landed Geneseo basketball on ESPN Sportscenter as the -1 Play of the Day.
A 2006 third team NSCAA All-American, Manetta led the Knights to 48-20-10 record over his four seasons, including a 2006 SUNYAC Championship and appearance in the NCAA Division III tournament. A native of Rochester, N.Y. and graduate of Greece Arcadia High School, Manetta scored 10 goals and handed out 19 assists from his center midfield position. He started 76 of 78 games played over his four years, his 19 career helpers stands third on the Geneseo all-time charts, while his eight assists in 2007 is the fourth most for a single season in the Geneseo annals. A four-time All-SUNYAC selection, Manetta garnered SUNYAC Rookie of the Year honors in 2005, was a two-time first team All-SUNYAC choice (2006, '08) and claimed three All-Regional awards.
Graduating as the all-time points leader with 104, Milkovich Ulaky paced Geneseo to a record of 44-25 over her four seasons, including winning the 2010 SUNYAC Championship and the program's first appearance in the NCAA Division III tournament. She completed her career with 34 goals and a school record 36 assists and at the time of her commencement, she held school records for points (43), goals (15) and the still-standing record for assists in a season (13), all coming in 2010. A four-time First Team All-SUNYAC performer, Milkovich Ulaky was a four-time All-Region honoree (three times on the first team), the 2010 SUNYAC Tournament MVP, SUNYAC Player of the Year and a Second Team NFHCA All-American. A stellar off the field set of accomplishments included three appearances on the NFHCA Academic Squad, the 2011 SUNYAC Dolores Bogard Award for combined athletic and academic excellence and the 2011 SUNY Chancellor's Award for Student Excellence.
A high-scoring forward from Peterborough, Ontario, Canada, Gillam played three seasons for the Ice Knights and aided the team to a 44-44-1 record over that span after transferring from NJCAA National Champion, SUNY Canton. A two-time second team All-SUNYAC performer, Gillam notched 147 career points on 62 goals and 85 assists, which stood fifth, fifth and third on the Geneseo charts at the time of his graduation and remain in the top 15 all-time. As a senior in 1985, he scored a then-school record 62 points, which remains eighth best in school history. His 49 points per season over three years ranks third all-time for the Ice Knights behind fellow Geneseo Sports Hall of Famers, Chris Smith '91 (58 points per season) and Terry Reilly '88 (57 points per season).
Loughran is featured in one of Geneseo's most iconic sports photos; lifting the 1986 SUNYAC Ice Hockey Championship trophy as the Captain of the Ice Knights' first conference championship team. The hard-nosed centerman from Ridgewood, New Jersey collected 113 points on 41 goals and 72 assists during his four years, leading the Ice Knights to a record of 64-59-2. He is one of just 30 players in 45 years of Geneseo hockey to eclipse the 100 career point mark and won the Ira S. Wilson Award in 1986. In 2009, Loughran assumed the duties as Chair of Geneseo's Roundtable Athletic Association (RAA) Board of Directors. His leadership of the RAA and athletic-related philanthropic activities are unmatched and include the establishment of the George L. Loughran Jr. Memorial RAA Endowed Fund in honor of his father. Most recently, Loughran spent three seasons as a volunteer assistant coach for the Geneseo Men's Ice Hockey team, combining his championship experience, knowledge of the game and selfless attitude to help mentor the Ice Knights to three-consecutive SUNYAC Championships. Loughran's commitment to Geneseo does not end with athletics as he has served on the Geneseo Foundation Board of Directors and School of Business Advisory Council.