Spring Hill restaurant featured on Food Network's 'Restaurant: Impossible' – Suncoast News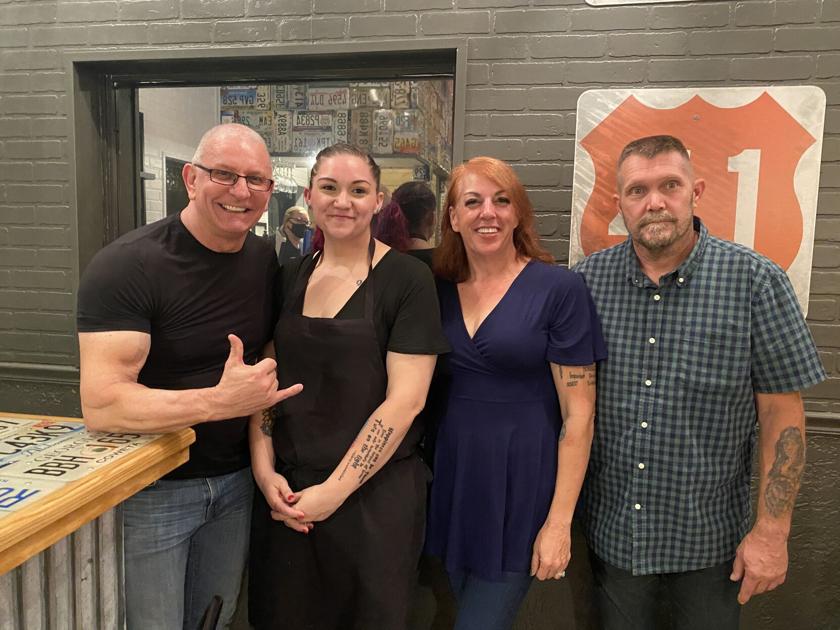 SPRING HILL — A little restaurant that's bursting with flavor was recently featured on the Food Network's "Restaurant: Impossible."
Food Network Chef Robert Irvine visited Turnpike's Rest Stop in March for a whirlwind two days, where production, crew, restaurant staff and owners got a crash course on communication skills all while the restaurant underwent remodeling. While still in the middle of a pandemic, everyone had to undergo rapid COVID-19 tests and temperature checks each day of filming, and the restaurant was closed to the public, except for a brief period of dining hours.
To celebrate the episode dubbed "Subs and Pubs" aired on June 10, Marker 48 held a watch party and stayed open later for a crowd of just under 200 people.
"The community has been such a big support before and after the TV show," said Melissa Parresol, co-owner. "I loved the episode. It was very true to what goes on here. We're very much family-oriented, my mom and dad and myself own it."
Mom and co-owner Jodi Parresol added, "It was fun to watch. The whole experience was incredible, wild, crazy. It was like being put in a tornado for 72 hours and spit out."
"Restaurant: Impossible" follows Irvine as he visits struggling restaurants and tries to turn them around in two days with the help of his crew, which restores the place. Irvine does a blind walkthrough, speaks with the owners, and then observes the business before he offers training on cooking and service.
With two different backgrounds of people collaborating to run a restaurant, the biggest challenge the Parresols needed to learn was the best way to communicate with one another. Jodi and Eric Parresol had originally opened Turnpike's Rest Stop with some friends in September 2019, but once that friendship dissolved, their daughter stepped up to help run the restaurant.
While Melissa has 16 years of restaurant experience and a culinary arts degree, her parents had to learn from the show to take advantage of her knowledge and skillsets. They also learned how to work more independently without needing Melissa for every decision.
Now, the restaurant has a different look, but it still offers the same fresh ingredients. Turnpike's Rest Stop serves breakfast, brunch, lunch, and early dinner. If you look back in the kitchen, you won't even find a microwave, Melissa said. Desserts are made in-house and each Parresol has their own specialty. Additionally, diners can ask to see a gluten-free or vegetarian menu.
Turnpike's Rest Stop got picked up by the Food Network after a producer watched a video about the restaurant that was filmed by a customer and posted on YouTube. The producer reached out via Facebook, which Melissa thought at first was a scam. After a little bit of research, Melissa discovered it was a real offer being made and jumped at the chance to get a professional's help.
"It's such good information, but if you don't have the foundation to use what they're giving you, it can be overwhelming," Jodi said of the input from Irvine.
The Parresol's relationship with Irvine continues today, months after filming. Melissa, who recently had major surgery, said Irvine called to see how she was doing. One of her favorite memories from the period of filming was getting the chance to serve him a cake. He loved it so much, Jodi said, that he even kept the plate it was served on.
Turnpike's Rest Stop is at 3429 Deltona Blvd., Spring Hill.