Science Meets Magical Realism in Son of Monarchs – Scientific American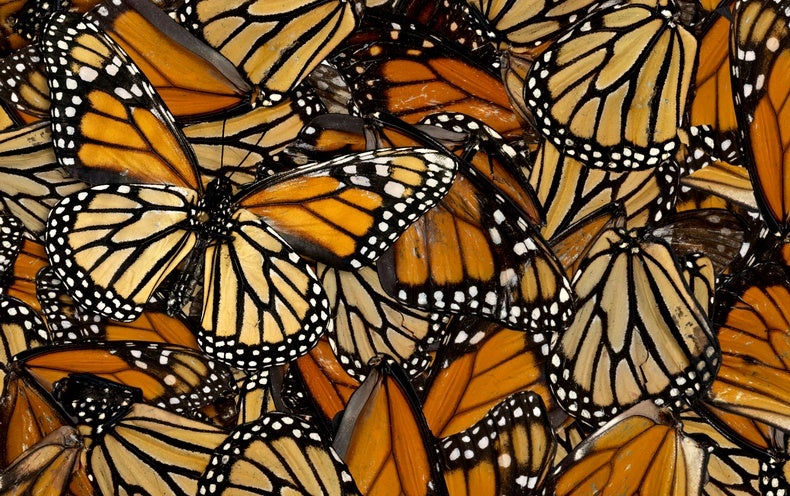 Every year millions of monarch butterflies migrate from the northeastern U.S. and Canada to the mountain forests of Mexico's central highlands. In breathtaking swarms, they seek warmer lands where milkweed grows and they can mate—an annual pilgrimage spanning upward of 2,500 miles. The new film Son of Monarchs, starring Tenoch Huerta of Narcos: Mexico fame and directed by French-Venezuelan biologist and filmmaker Alexis Gambis, is set against the backdrop of this great wildlife migration.
This stunningly photographed semi-autobiography draws on CRISPR-Cas9-mediated genome research into the iconic butterflies to step into a narrative about hybrid identities, diminishing spaces, social evolution and divided territories. The film goes, in the director's own words, "from the vein of a butterfly wing to the border between countries."
Son of Monarchs follows Mendel (yes, an allusion to that Mendel), a New York City–based Mexican biologist portrayed by Huerta. He returns to his hometown of Angangueo, a small village nestled in the mountains of Mexico's state of Michoacán, following the death of his grandmother.
The journey south of the border forces Mendel to confront a strained relationship with his brother, as well as dark memories of his parents' death in a mining disaster. Through encounters that bring him face to face with a version of himself that he had once left behind, Mendel slowly spirals into a spiritual metamorphosis, a journey inspired by the monarch butterfly's own, in search of personal truth and identity.
Science is the canvas upon which Gambis paints his story of Mendel's departure and return, each eventual and painful in its own way.
Much of the film's scenery unfolds along seemingly opposing poles: In New York—a comfortable, welcoming refuge away from home for Mendel—we peer inside petri dishes containing severed butterfly wings through the lenses of microscopes within white-walled, sterile labs. And in Michoacán, we are taken along gaslit cobbled streets, flanked by old houses with red-tiled roofs, and to the foot of majestic oyamel fir trees where the monarchs cluster in thousands—the air heavy with their presence.
Each layer of storytelling, from the mesmerizing scenery of the lush butterfly forests of Michoacán to the wistful musical score to the metaphor-rich script, adds to the experience.
Gambis, a seasoned science communicator and storyteller, manages to strike a delicate balance in tone rarely seen in science-driven movies. The brutality and precision of scalpels decapitating, slicing through and cutting into fragile butterflies, scaled up dramatically, is tempered with sunlit scenes of the monarchs roaming freely in their natural habitats. The discussions of CRISPR-Cas9 and the uneasy relationship nonscientists have with manipulative genetics, as well as consideration of walls and regional politics, do not distract from the human stories or impose on the characters' exploratory conversations.
Gambis says that science, particularly the science of evolution, is his way of wading into difficult conversations about politics, culture and gender. Son of Monarchs is his case in point.
In the film, Mendel, much like Gambis himself, straddles two worlds. He is pulled apart by fascination with the new—represented by the discoveries he makes about genes in state-of-the-art science laboratories—and the romance and specter of his roots and cultural heritage. In reconciling his identities, Mendel is forced to look within, opening old wounds and dusting off painful memories.
At the end of the grueling journey, Mendel finally embraces his hybrid identity. In shedding layers of himself, he is born again—emerging as an evolved creature and a product of two worlds: half-man, half-butterfly. The slow and deliberate transformation manifests on his skin as he uses ommochrome, a biological pigment harnessed by butterflies, to tattoo his body. In one dreamlike hallucinatory sequence, the rusty orange tinge of the monarch's wing spills over into his physical reality.
The film is a commentary on what it means to be an "alien" at home and away—an immigrant at the precipice of personal evolution in a time of turbulent politics. Gambis says he wanted to challenge stereotypes about both Mexicans and scientists by featuring a young Latino man as the lead biologist in the drama.
The danger-fraught cross-border journey of monarchs alludes to immigrants' struggles and their right to free movement. In March 2016 millions of the butterflies in two overwintering colonies died during extreme rains and snowstorms. Monarch populations have dwindled dramatically because of pesticides and the unrelenting climate crisis.
In this film, the butterflies are at once a symbol of fragility and resilience, of experiencing mortality and conquering adversity. On their return north, each new generation of monarchs carries the long migration forward. The generation that begins the journey is not the same as the one that arrives.
Despite living at the intersection of fantasy and realism, the elements of fiction in Son of Monarchs do not extend to science. The labs are real (in fact, the lab scenes were all shot inside New York University, with scientists' hands making cameos in scenes showcasing butterfly dissection). The research featured in the movie is based on real-life attempts to design living butterfly wings through pinpointing and editing gene networks that generate their transfixing colors and patterns. As Mendel explains it in the film, "Imagine painting a butterfly with numbers…. The coloring instructions are written in the genetic code."
Optix is the master regulatory gene at the center of Mendel's research (and of many allegorical conversations about the nature of change and evolution in the film). It controls wing pattern variations in butterflies and is believed to hold the key to unlocking the secrets of selective wing mutations. When optix is deleted, the butterfly is rendered ghostly and nearly transparent, a shell of its former self.
The film played out in Gambis's mind for years before he had the resources to make it. After several other projects, including a trio of shorts about monarchs and an interview with CRISPR-Cas9 co-discoverer and Nobel Prize winner Emmanuelle Charpentier, the story of Son of Monarchs was finally on the wing.
Production took three years and was often interspersed with pauses to raise money to continue the project. Labocine—a video-on-demand platform and magazine founded by Gambis that is dedicated to science fiction and nonfiction films—produced Son of Monarchs. And it was filmed in Mexico's Monarch Butterfly Biosphere Reserve, a sanctuary with protected microclimates between Michoacán and the State of Mexico where millions of butterflies overwinter and roost.
The movie's production team included scientists at the reserve, N.Y.U., Cornell University and the National Autonomous University of Mexico's Institute of Biology, as well as the Marine Biological Laboratory.
The monarch butterfly, which Mendel pores over and scrutinizes under the microscope, is the beating heart of this story—the subject of Mexican lore and an object of study at the frontiers of biology. Son of Monarchs pays homage to the butterfly as both "las Muertitas," or the souls of the dead that come back to visit loved ones, according to legend, and as an animal model helping scientists uncover the underlying mechanisms of genetic evolution.