Rustic Elegance: The Hayloft at Moonshine Farm | Topstories | nny360.com – NNY360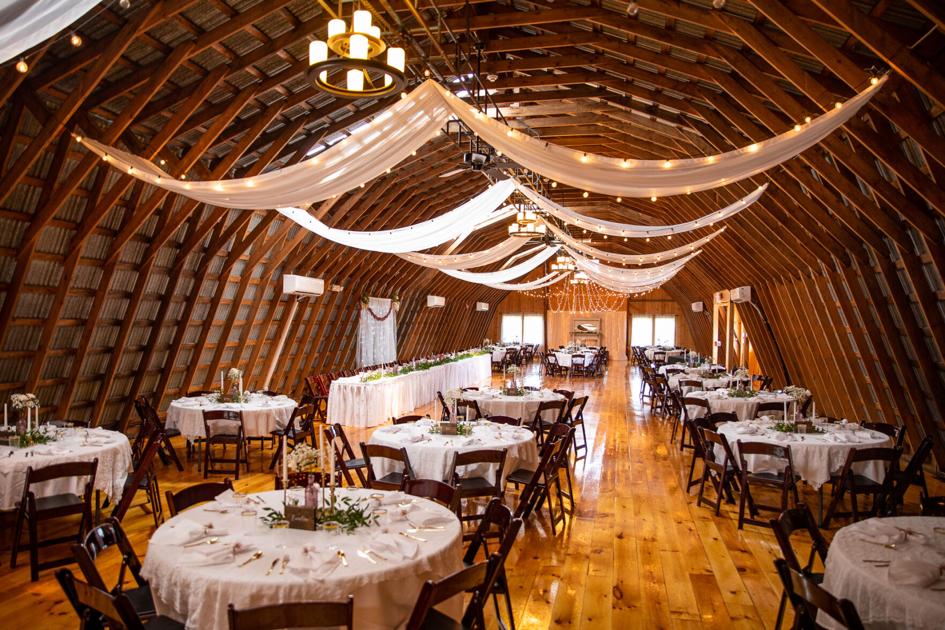 Whether it's finding the perfect dress –or tux–or the thought of being surrounded by friends and family for a day of happiness, there's no shortage of things to look forward to and be excited about when it comes to weddings.
Another aspect to planning a wedding is the venue. Some choose to travel to exotic locales to tie the knot, and others prefer to stay closer to home, but one thing is for sure: the venue is an important component of wedding planning.
Years ago, an old dairy barn in Lewis County was given new life after being converted into a beautiful and spacious venue for weddings and other special occasions. The venue, known as The Hayloft at Moonshine Farm, is located at 6615 Buneo Road in Port Leyden.
"I had watched my grandparent's farm slowly disintegrate and then end up being torn down," said Pamela J. Hoskins, owner of The Hayloft at Moonshine Farms. "As long as we were not farming, I wanted something to happen with this barn so it wouldn't fall into disrepair and ruin."
Mrs. Hoskins and her husband, Robin, previously operated a dairy farm at the location for a number of years until they sold their cows. Now, the former upstairs hayloft serves as a large reception hall, featuring a bar that came from the former Mr. T's Tavern in Croghan.
Over the course of a few years, the couple cleaned out the old structure — part of which dates back to the late 1800s — and converted it into the venue that stands today.
Rather than sell the farm, the Hoskins' decided to repurpose it, and both the barn and surrounding land are used constantly for events and weddings. The idea for the conversion came to Mrs. Hoskins when she heard about another barn-turned-wedding-hall, coincidentally after her daughter Emily had expressed interest in a similar venue. Mrs. and Mr. Hoskins went to visit the venue, along with another such site elsewhere in the state, and decided to undertake their own such project, opening the venue in 2014.
"I was ready to retire, I had worked for public health and I was ready to do something besides being behind the desk," Mrs. Hoskins said. "I was at a meeting one day, and a girl at the same table was telling me that her daughter was getting married in a barn. I asked her where it was and we went and visited that barn and another one, and then we came back and started cleaning ours."
The two had new flooring put down, which Mrs. Hoskins said they get a lot of compliments on because it's hardwood and shiny. Everything is on one level, with two handicap accessible ramps to get in. The venue features mens and ladies' rooms, three storage rooms, a dressing room for the bridal party, and a kitchen prep area.
Mrs. Hoskins said the venue usually opens around the end of April and stays open until the beginning of November. With an occupancy of 225 people, The Hayloft can cater to a variety of events from weddings and receptions to baby showers, bridal showers, graduation parties, and more. Specifically for weddings, The Hayloft can host lovely receptions, while the grounds can accommodate beautiful outdoor weddings if couples wish to keep everything to one location.
With weddings booked at the venue just about every weekend, Mrs. Hoskins said they probably have around 30 events a season.
Included in the venue's package are all of the linens and centerpieces, as well as tables and chairs. Mrs. Hoskins has the tables all set up for them when they come in, though some have specific wants for centerpieces, but she said the majority of the time weddings use the things she has. She shared she has a storage room full of different types of lanterns, vases, tealights, votives and more.
"I try to make it easy for the bride, so that it's not so stressful for them," Mrs. Hoskins said. "We have everything all ready for them and at the end of the evening they can just leave, we pick up everything and they normally come back early the next morning and get their stuff."
As for the name, The Hayloft at Moonshine Farm, Mrs. Hoskins said it stemmed from information shared by the previous owners that moonshine was once made in stills at the bottom of the hill below the barn.
According to Mrs. Hoskins, guests from out of the area, that have never been to a barn venue, have no idea what to expect when they get there and can't believe how beautiful it is. She said she thinks people have a lot of fun at the venue, that it's a very beautiful place and can be made to look either more formal or simple, depending on the customer's needs.
"I think that it being a barn is really what makes it unique and the extraordinary view that we have," Mrs. Hoskins said. "We have a view of the Adirondack Mountains and Black River Valley and it is just beautiful. There's lots of places for pictures all over the place here, so usually I don't really have to say a lot because it kind of speaks for itself."
While the venue does not provide food services as part of their wedding package, there's space for caterers to use for last minute preparation and there's a food warmer to be utilized.
Mrs. Hoskins said she and her husband try to do updates to the venue every year, and have recently been putting in some gardens around the grounds.
"I would just like to thank all of the people that have chosen us as a venue in the past," she said. "I've enjoyed working with all of them and I look forward to many more years of helping people have a special day."