Rooted Juice Bar and Cafe offers unique ambiance and menu – NNY360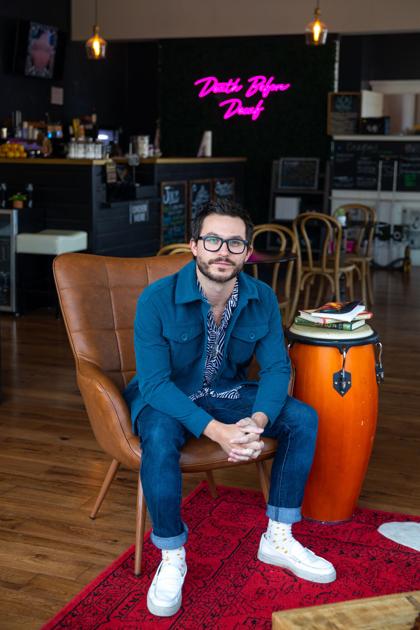 There are plenty of benefits to drinking healthy, nutritious cold pressed juices, and Rooted Juice Bar & Cafe in Clayton can offer some of the best around.
In the same building as the well-known DiPrinzio's Kitchen, Rooted Juice Bar and Café offers a quiet, cool ambiance with a menu of juices, smoothies, health shots, beers and wines, as well as crepes, pizza, bagels and sandwiches. The cafe also offers a delicious acai bowl.
Co-owner Connor DiPrinzio said the cafe, started by his older sister in 2017, has evolved over the ages. Mr. DiPrinzio, a filmmaker from Syracuse who came back to Clayton to help run the family businesses during the spread of COVID-19, said the pandemic has offered him a chance to inject some worldly culture into the business.
"I wanted to create a space that was cohesive, offered people a nice space to come together and experience new things," he said. "There are a lot of books on film, painting, and it's a cool environment where you can come and feel loose, where you can enjoy the atmosphere."
Rooted is one of very few juice bars operating in the north country, and Mr. DiPrinzio says, "It's been well received in Clayton. The health benefits are well-liked as well."
"There are no additives in anything, everything we do is fresh and from the source," he said.
Cold-pressed juices offer drinkers the opportunity to enjoy the health benefits of the fruits, vegetables and spices included without filling up with an entire meal. Cold-pressing never exposes the ingredients to heat, so juicing enthusiasts say it contains more of the vitamins, enzymes, minerals and antioxidants from the original ingredients.
Mr. DiPrinzio said more and more people are recognizing the benefits of cold-pressed juice alongside other health-conscious efforts, like yoga or meditation.
"I think a lot of this, juicing, being a part of this vibe, is just the accountability of showing up and trying something new, holding yourself accountable to actually see what the benefits can be," he said.
Mr. DiPrinzio said Rooted Juice Bar and Café offers patrons the opportunity to enjoy fresh, healthy and delicious foods that cut out all of the preservatives, chemical additives and artificial flavorings that are so commonly found in what is available in food and restaurants today.
"Cutting out all that bad stuff, there's just so much of it around us these days," he said.
The cafe's artisan crepes — savory or sweet — the bagel shop, and the coffee selection are all made with the same commitment to health and quality as the cold-pressed juices, and Mr. DiPrinzio said he's sure visitors will find something to their liking on the menu.
"We have a great staff, everyone is super engaged, trying to bring people in and connect with the community," he said.