Perry honors local business with Business Appreciation Day – Hannibal.net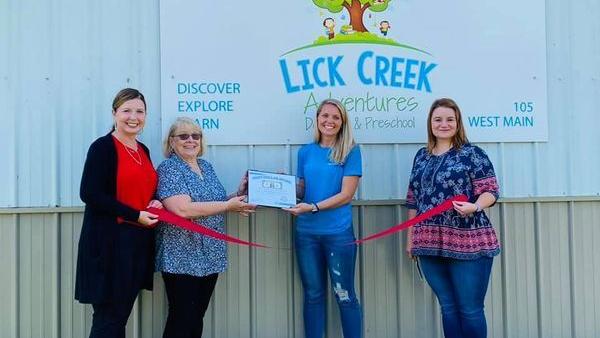 PERRY, Mo — The Perry Chamber of Commerce dedicated last Friday to recognizing 21 local businesses in Perry in the Business Appreciation Day.
"Due to COVID-19, we have fallen behind in welcoming a lot of new businesses to town," said Michelle Keil, President of the Perry Chamber of Commerce. "So we wanted to take this opportunity to welcome them to the community."
Keil, along with three other members of the Chamber, drove around town to 14 different locations to do an official ribbon cutting and present each business with their first dollar.
Several of the businesses just opened their doors this year including Remember When Campground, owned by Al Davis and located on Lick Creek, opened last May. Also on the morning ribbon cutting tour was Lick Creek Adventures Daycare which opened January 2019.
"It is awesome to feel appreciated and to be welcomed into our community," said Kayla Stevener, owner of Lick Creek Adventures Daycare. "I truly love serving the children and parents of the Perry community."
The Short Line Cafe was also on the ribbon cutting list. Previously Hootenannies, the new owners had a soft opening the night before the ribbon cutting ceremony and served a limited menu for the first week. The full menu will be available starting October 6.
Other businesses who received a ribbon cutting ceremony and first dollar were:
Scruffy Puppy
The Junction
Carla Northcutt C.P.A
Noble Health
Bienhoff Funeral Home
Tri-County Electric
South Lake Designs
Grossmann Masonry
Premier Properties / Shelter Insurance (Kyle Mack)
Other business who received their first dollar in front of Perry City Hall were:
Prestige Realty – Scott Leake
United Country Salt River Properties – Luke Mitchell
United Country Salt River Properties – Trey Elliot
GATEWAY, Realtors – Michele Keil
At Home Realty – Cindy Lynn-Drainer
Bailey's Beef Company, LLC – Austin & Ashley Bailey
McCurdy Fertilizer & Chemical
Courtney K Photography
Ariel Burnett Photography
The group also hosted lunch for all area businesses, offering a free meal to all business owners and their employees.