#Next20: Sports Activism | About Verizon – Verizon News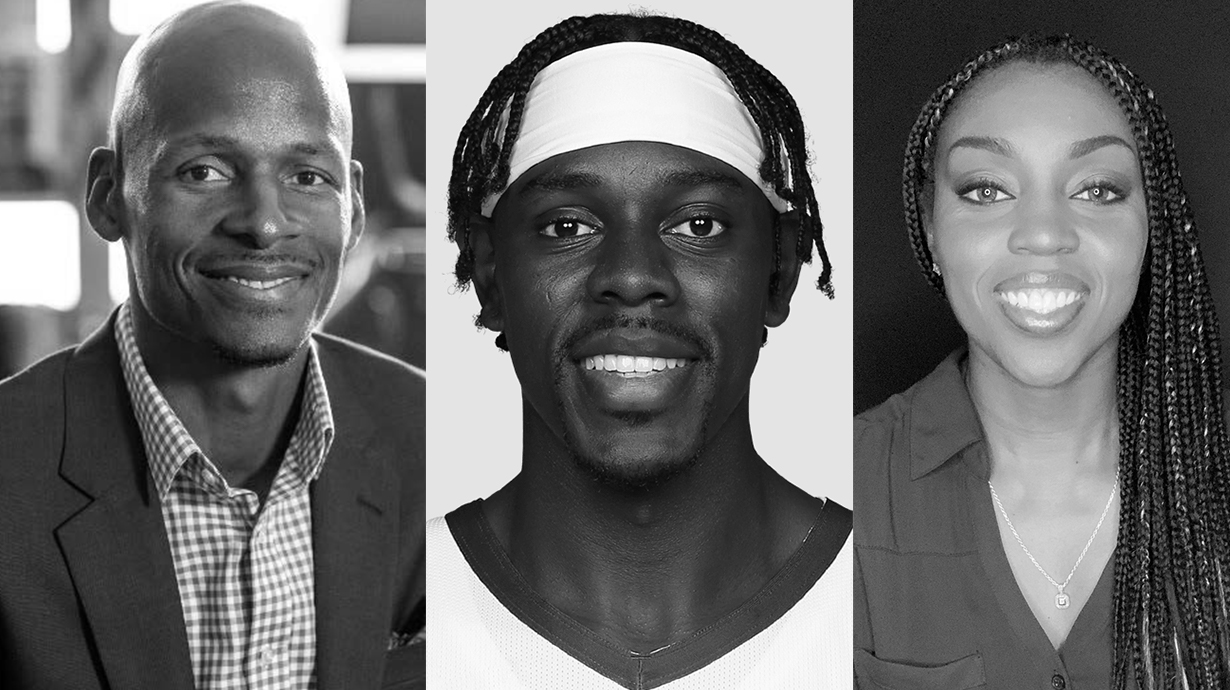 In recent years, a number of U.S. athletes have garnered national attention, not for their accomplishments on the fields and courts but because of their work to raise attention for the issues that matter to them. But activism in sports has a long and proud history dating back all the way to 1883.
Whether standing up for equal pay between genders, protesting U.S. involvement in a foreign war or choosing silence at a critical moment to elevate the voices of the marginalized, athletes have found ways to turn their spotlight on to the most significant issues of our time.
In this episode of #Next20, Yahoo! Sports Senior NBA Insider Chris Haynes moderated a star-studded panel about stepping up and speaking out for change:
Ray Allen, Former NBA player, Member of the Naismith Memorial Basketball Hall Of Fame
Jrue Holiday, All-Star point guard of the Milwaukee Bucks
Renee Montgomery, 2x WNBA champion and activist
Making a difference off the court
With the pandemic, the murder of George Floyd and a new baby boy on the way, playing basketball in a bubble was the last thing on Jrue Holiday's mind. "There were a lot of emotions going on and feeling like how am I going to play basketball when I felt like my people are, again, don't have equality…It's not about wanting more. It's just about being equal."
After talking with his wife about his next move, she brought up the idea of donating the rest of his salary to Black- and Brown-owned businesses, nonprofits and higher-learning institutions. Jrue ended up donating over $5 million to these initiatives. "I just felt like it wasn't right. So I just felt like so many things – so many different emotions and being able to give back to my community who I feel like needed help is something that was definitely worth it. But at the same time, it was something that was needed."
After a long discussion with her family and friends, Renee Montgomery decided to sit out last season to fight systemic racism and social injustice. "I'm one of those people where I'm all in and I can't be halfway," said Renee.
During her opt out, she threw cookouts for protestors and talked about the importance of voting to these protestors. "You've got to be going to go vote because you can't do one and not the other….I feel what you're mad about. To have the biggest change, we've got to go to the polls…So that kind of became my mission just to educate."
Looking forward
Throughout the episode, both former and current players reflected on what the future could look like. For Jrue, the future includes more and more young athletes feeling confident to stand up for what they believe in.
"I would say just ask questions to get educated on whatever it is that you want to pursue…Go all in. There's always going to be haters. Somebody's not going to like what you're doing, but who cares? So as long as you believe in it, as long as you have a tight‑knit circle, a community of people that have your best interests, I say go for it, and don't look back."
Renee added, "There's no putting the genie back in the bottle… athletes now understand that we're allowed to speak out, and we're going to do it even if we weren't allowed. And so you see younger athletes now seeing what the athletes are doing in the pro level, and they're aspiring to be that."
Ray Allen took the conversation a step farther. On top of speaking out on important issues, he believes equality has a greater chance of fruition when there are more team owners of color.
"It's one thing to donate to charities, but it's another way to give back to the sport by owning a team, by making sure that business is conducted the way it should be conducted, and people are put in place that make sure there's equality throughout that organization."
Off the court, Ray believes corporations have to hold the league and themselves accountable.
"Each one of these CEOs, corporations, they have to check themselves. He added, "We solicit businesses that, you know, make millions and millions of dollars, Fortune 500 companies, and yet they don't reflect the diversity that is in this country. And so it is up to every CEO to gather and figure out a way to make their companies represent what America looks like."
Need to catch up on #Next20?
Don't worry, we've got you covered with the latest episodes:
Episode 1: Criminal Justice Reform
Episode 2: Making Every Vote Count
Episode 3: American History 101
Episode 4: Reimagining Small Businesses during COVID-19
Episode 5: We Have a Dream
Episode 6: Born Digital
Episode 7: Disability+Race
Episode 8: Climate Action
Episode 9: 9 that moved us
Episode 10: Our children's mental health