NASA's Perseverance Mars rover has begun its first science campaign – Science News Magazine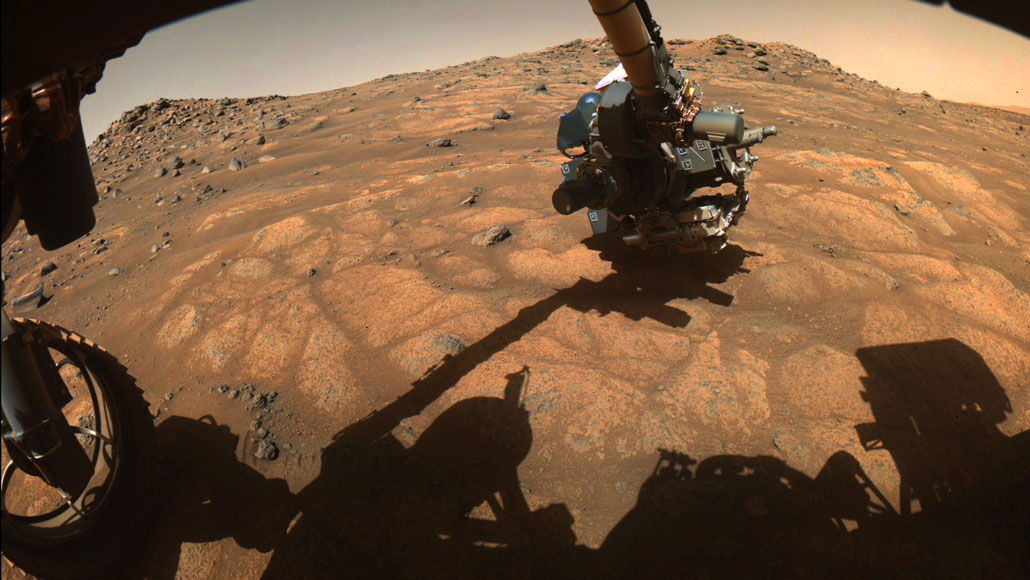 NASA's Perseverance rover on Mars has seen its future, and it's full of rocks. Lots and lots of rocks. After spending the summer trundling through Jezero Crater and checking out the sights, it's now time for Percy to get to work, teasing out the geologic history of its new home and seeking out signs of ancient microbial life.
"We've actually been on a road trip," project manager Jennifer Trosper, who is based at NASA's Jet Propulsion Laboratory in Pasadena, Calif., said at a July 21 news conference. "And during it, we will take our very first sample from the surface of Mars."
Percy is about 1 kilometer south of where it landed on February 18 (SN: 2/17/21). After driving itself around a region of sand dunes, accompanied by its tagalong helicopter Ingenuity (SN: 4/30/21), the robotic explorer has pulled up to its first sampling spot: a garden of flat, pale stones dubbed paver stones. "This is the area where we are really going to be digging in, both figuratively and literally, to understand the rocks that we have been on for the last several months," said Kenneth Farley, Perseverance project scientist at Caltech.
The team has been trying to figure out whether these rocks are volcanic or sedimentary. "We still don't have the answer," Farley said. Images taken a few centimeters above the surface show what the team is up against: The rocks are littered with dust and pebbles, probably blown in from elsewhere, and the smoother surfaces have a mysterious purplish coating. "All of these factors conspire to prevent us from peering into the rock and actually seeing what it is made out of," he said.
In the coming weeks, Percy will bore a smooth cavity in one of those rocks and get below the surface crud. Instruments on its robotic arm will then move in close to produce detailed chemical and mineralogical maps that will reveal the rocks' true nature. Then, sometime in mid-August, the team will extract its first sample. That sample will go into a tube that will eventually get dropped off — along with samples from other locales — for some future mission to pick up and bring to Earth (SN: 7/28/20).
Cameras scouting farther afield have turned up future sampling sites. A small far-off hill shows hints of finely layered rock that may be mud deposits. "This is exactly the kind of rock that we are most interested in investigating for looking for potential biosignatures," Farley said.
And the way that rocks are strewn about an ancient river delta in the distance suggests that the lake that once filled Jezero Crater went through multiple episodes of filling in and drying up. If true, Farley said, then the crater may have preserved "multiple time periods when we might be able to look for evidence of ancient life that might have existed on the planet."