Mannequins replace models in fashion show's return | Campus | purdueexponent.org – Purdue Exponent
A glamorous and unexpected comeback is underway, despite numerous pandemic-induced cancellations.
The annual Purdue Fashion Show is returning to campus Monday after a three-year hiatus.
The exhibition will take place in Marriott Hall and feature the seminal works of student designers in the School of Hospitality and Tourism Management's apparel design concentration. Some of these designers are also members of the student club hosting the show, the Fashion and Retail Organization.
The last Purdue Fashion Show, in April 2018, was expected to be its final exposition because of departmental changes involving the now-defunct apparel design and technology major. But the desire to share their art and craftsmanship remained with students in the apparel design program.
"Talking with (the students), there was always a strong consensus to bring back the Fashion Show," said Kristofer Chang Alexander, a professor in HTM. "Of course, it's very nice to be able to show off your work, especially with the expense and time that goes into it."
This consensus led to an attempted revival of the show to be held in April of last year. The department had scheduled the event and students had begun designing pieces to showcase.
In a matter of weeks, the pandemic swept away the possibility of a show that year.
Student interest within the concentration held fast. Throughout the fall semester, plans became set in stone for the present exhibition, though they included a fair number of restrictions.
The Cordova Recreational Sports Center's Gold and Black Gym had in previous years hosted a full-sized runway where models hand-picked by the students showed off their designs.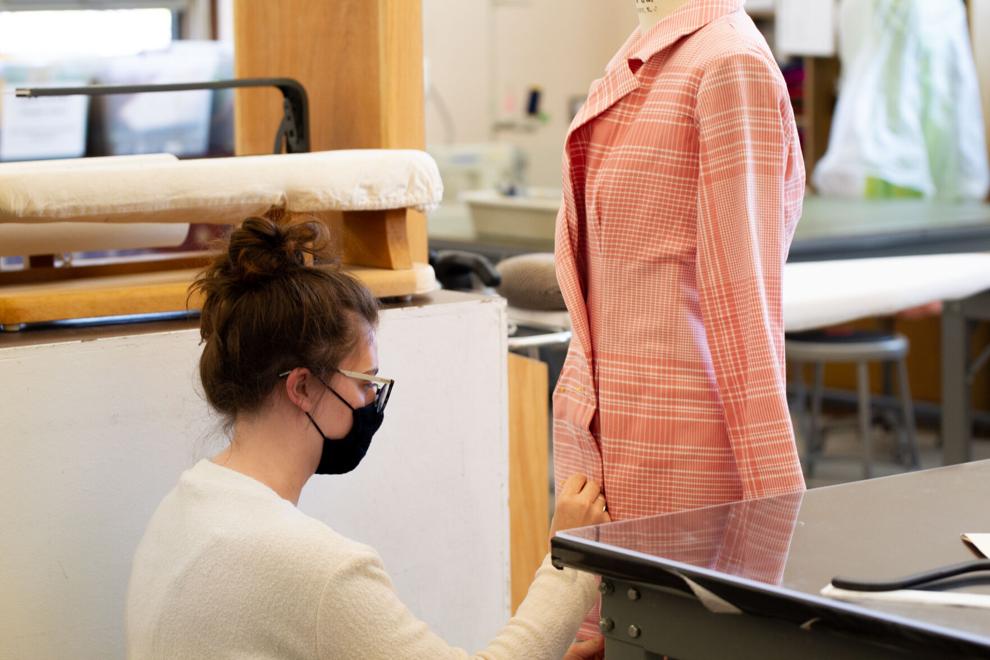 This year, the retail management division of HTM has opted for 40 mannequins in place of human models. Ten will be male and 30 will be female.
The show will be held as an open-floor gallery in Marriott Hall to facilitate the entry and exit of patrons while adhering to social-distancing guidelines.
Members said the acquisition of the mannequins, along with the scheduling of the venue, is born of efforts by Chang Alexander, who remains a rock for Purdue's fashion students during turbulent times.
Chang Alexander said he helps students, who must pay their own money for expensive fabric, by providing as many resources as he can. Student organizations earned a grant for the mannequins.
He said the idea to model clothing on mannequins came from exhibits in prominent museums like the Metropolitan in New York and the Victoria and Albert Museum in London. He sees the new format as advantageous to the show's longevity.
"This way, the Fashion Show can be up longer, where previously it would be only one day," Chang Alexander said. "People can walk through and look at the designs closer. There's going to be, overall, a longer exposure of the student body to what their peers have created."
'Social isolation' changes design
The artistic and hands-on nature of fashion and design education has proved onerous to translate into virtual learning.
In previous semesters, teachers could physically show their students how to solve problems involving pattern- making and clothing design. They now are forced to instruct through demonstrations on models of torsos and plain drawings.
Also missing is the social aspect of fashion design, which starts with hours spent laboring in the design lab.
"There is a bit of that social isolation. A lot of the time you bond over the designing in those labs. Ask any of the students, we're working there constantly. Very often we stay the night," said Hannah Collins, a junior in HTM and president of the Fashion and Retail Organization.
"Sometimes we're there on the weekends," she added, "and that's where everyone spends time together."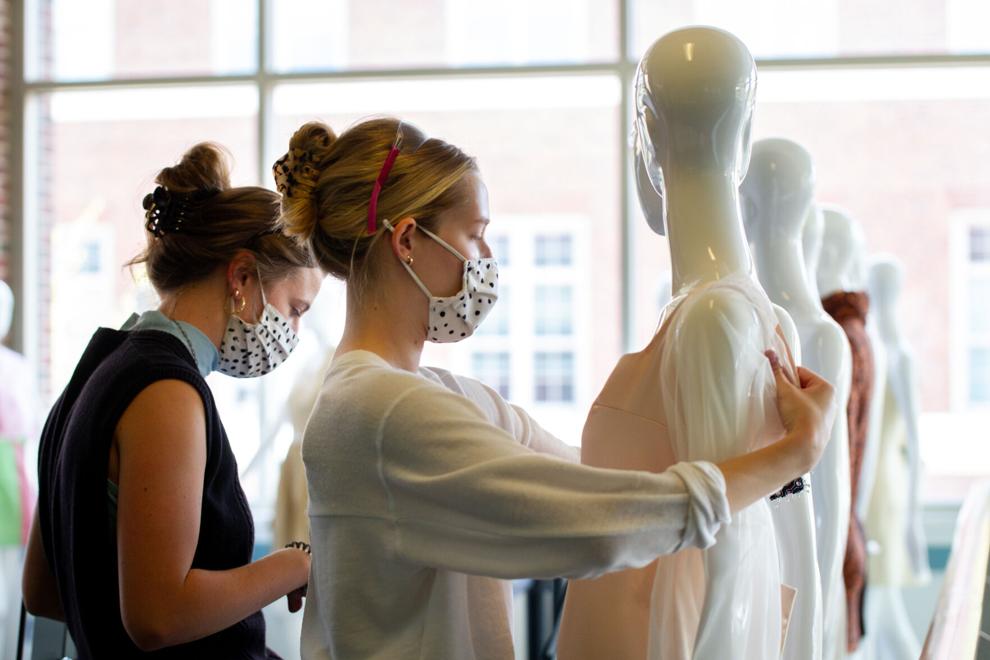 But Collins, whose zeal for fashion led her to choose it as a concentration during her sophomore year, noticed an increase in non-fashion design students attending FRO meetings during the pandemic.
"After the pandemic (began), a lot more non-fashion students joined, mostly freshmen looking to make friends," she said. "I know a lot of clubs aren't having in-person meetings — and we've been working towards that — but this turned out to be just a great place to learn something new and meet people."
Collins' collection for the Purdue Fashion Show is loosely inspired by Sofia Coppola's Marie Antoinette, which starred Kirsten Dunst as the headless and heedless queen, Collins noted. The collection features Collins' designs of faux-18th-century wear, similar to that worn by Dunst.
For students in FRO, the exhibit is a chance to flourish through the expression of their own artistic ideals and inspirations, she said.
"It's a chance to show your creativity," Collins said. "You could post it on social media, but to be able to say to people that you put your work in a show, and were able to express yourself to students, that's really of value."
The Purdue Fashion Show is an open-floor fashion design gallery in Marriott Hall open free-of-price to all visitors during regular business days. The exhibit runs weekdays from April 19-30. FRO will also offer a virtual walk-through of the exhibit via its YouTube channel and Instagram account, @purduefashionretailorg.