Local sports briefs: Oct. 9, 2021 | Local Sports | thesheridanpress.com – The Sheridan Press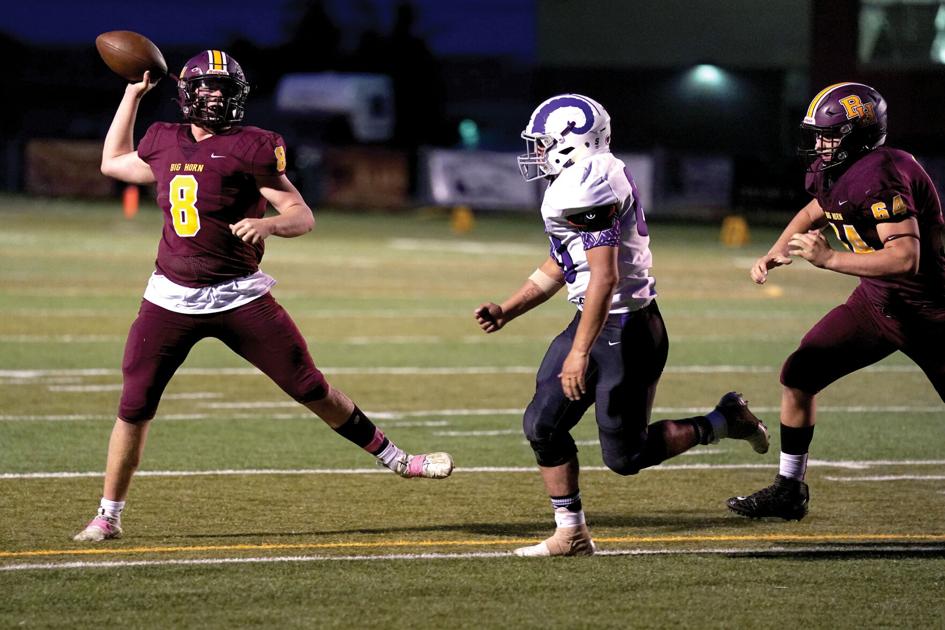 Big Horn Rams shut out Glenrock
BIG HORN — The Big Horn Rams bounced back from a double-overtime loss last week to shut out the Glenrock Herders 26-0 Friday night in front of a hometown crowd.
Coach Kirk McLaughlin said Glenrock started out the night running the double-wing offense, throwing the Rams off to begin the game.
But Big Horn quickly regrouped. McLaughlin noted while his team's passing offense has gotten stronger, the team's running game Friday night was the best he's seen all season.
"I'm glad to see that start to come together," McLaughlin said.
Jax Zimmer scored three touchdowns Friday, with teammate Cade Butler adding one trip to the end zone.
Friday's win puts the Big Horn Rams at 3-3 for the season. Next week, the Rams will face off against cross-county rival Tongue River Oct. 16.
Sheridan Lady Broncs drop match to Kelly Walsh
SHERIDAN — Sheridan's Lady Broncs dropped a tough matchup to Kelly Walsh High School Friday, losing 3-1 (13-25, 13-25, 25-23, 17-25).
Coach Lori Byrd said while the scores did not reflect it, each set was close.
"It was exciting to take a set off them since they are 22-2 and not many teams in the state have taken a set from them," Byrd said after the battle.
The Lady Broncs will face Cheyenne South Oct. 15 and Laramie Oct. 16 for their next matchups.
Big Horn runners finish in Glenrock
BIG HORN — While the Rams didn't field enough runners for a team score at the Glenrock Invitational Friday, Ethan Alliot managed a fourth-place finish to represent the cross-country crew with a time of 20 minutes, 25.66 seconds.
The other two runners notching finishes for the Big Horn boys were Chase Baker, who finished 17th with a time of 22:41.16, and Gideon Partenheimer (23:25.42) who finished 20th.
Eagles drop game to Wheatland
DAYTON — The Tongue River Eagles lost on the road Friday night, falling 20-14 against Wheatland.
The Eagles led 14-7 heading into halftime, but couldn't hold on for the win.
Eagles coach Steve Hanson said his team played hard, adding that holding Wheatland to just 20 points is no easy feat.
"Once again Tavis Aksamit and Ryan McCafferty came up big on the defensive side of the ball and our corners Eli Cummins and Garrett Ostler locked down their talented wide receivers," Hanson said.
McCafferty also contributed in big ways offensively with a kick return for a touchdown and a pass to Garrett Ostler for a touchdown on a 68-yard trick play.
Hanson noted his team struggled with pass protection and running the ball effectively against a hungry and aggressive Wheatland defense.
"I'm so proud of my team, even in a loss they played great," Hanson said. "(It was a) hard fought game against a good football team on the road."
The Eagles will face Big Horn next for an Oct. 16 matchup.
Lady Eagles volleyball drops game to Wright
DAYTON — In a tightly contested battle, the Lady Eagles dropped their match to Wright on the road Friday, winning two of the five sets played.
Each of the five sets featured back-and-forth play, with the Lady Eagles losing the first (20-25), winning the second (25-23), losing the third (21-25) and winning the fourth (25-18).
In the fifth set, the Lady Eagles played well, but dropped the final frame 10-15.
"There were good things that happened and I'm seeing growth in a lot of areas," coach Janelle Manore said. "We just need to continue to eliminate errors."
The Lady Eagles will face cross-county rival Big Horn at noon Saturday in Dayton.
Gillette Wild defeat NA3HL Hawks
SHERIDAN — The NA3HL Sheridan Hawks dropped their Friday night matchup to the Gillette Wild, 4-2.
Gillette attacked the Sheridan team, putting pressure on both Thomas Kuriscak and Bo Buckley in the net with 51 shots on goal. Sheridan, in comparison, had just 22 shots on goal.
The Hawks struggled with penalties — racking up 37 minutes in the box. Gillette took advantage of the Hawks being shorthanded twice, scoring on penalty plays in both the first and third periods.
Gillette struck first, scoring twice in the first period before Sheridan answered with a Teejay Torgrimson score. While neither team scored in the second period, Gillette added another goal in the third before Sheridan's Caden McDonald found the back of the net.
The Hawks will head to Gillette Saturday for a rematch set to begin at 7:05 p.m.