Local powerlifter Blaine Sumner featured in strength competition movie – Gillette News Record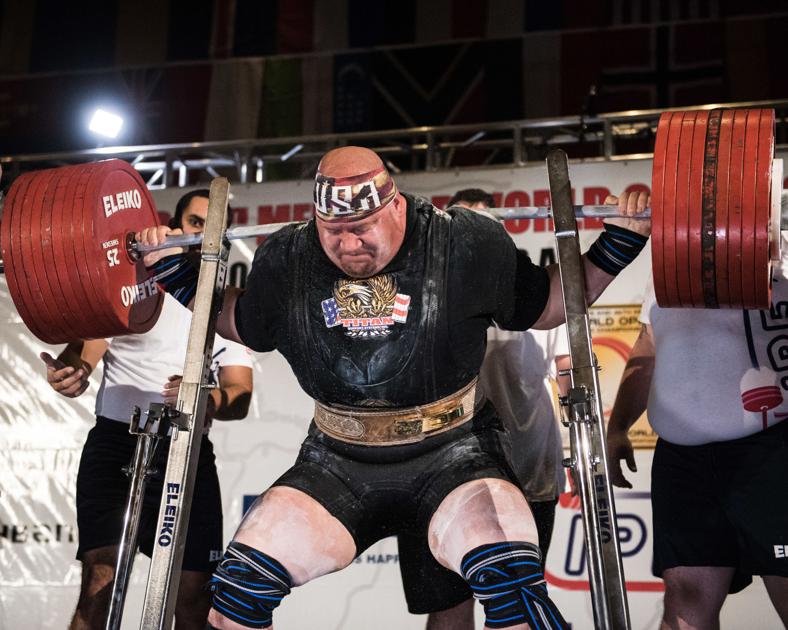 Blaine Sumner is known to many as the strongest man in the world. Based on the weight he is able to move, that's not much of an exaggeration.
Sumner's best numbers in powerlifting competitions are a 1,113-pound squat, 816-pound dead lift and a 1,003-pound bench press, according to his website. The squat, bench press and total number between the three are all world records.
Sumner moved to Gillette in 2018. About a year and a half ago, he was approached by producers from Generation Iron, a digital network that produces strength and fitness content for streaming and other video platforms.
Sumner was invited to the cast of "Strength Wars: The Movie" where he competes against seven other athletes to win the title of World's Strongest Man.
While Sumner declined to give the exact details of where he ended up in the competition because it would spoil the film, he said he feels good about how he performed.
"I was one of two powerlifters featured in it," Sumner said. "Based on the competition, a powerlifter really shouldn't be successful at it because it was more based on cardio and different things.
"I ended up beating a lot of the guys that I wasn't supposed to beat. I kind of proved that the powerlifters can kind of hang with other strength athletes doing something they're not really built for."
"Strength Wars" features Sumner and seven other men from around the world. The cast includes Larry Wheels, Terron Beckham, NDO Champ, Big Neechi, Jerry Pritchett, Anabolic Horse and Leonidas Arkona.
The movie can be bought for $13.99 on vimeo.com.
Getting to be the strongest
Sumner hasn't always been 375 pounds of pure muscle.
As a high school freshman in Conifer, Colorado, Sumner weighed just 140 pounds. He didn't bench press 135 pounds until he was 16.
It wasn't until his senior year in high school that Sumner started to blossom as an athlete. At Conifer High School, he went on to earn either all-conference or all-state honors in each of the four sports he played.
Sumner wrestled at heavyweight on his high school wrestling team at 250 pounds. He played football in the fall, did the shot put for track and field and also played lacrosse in the spring.
While his favorite sport was wrestling, Sumner's future was in football.
His size and athleticism led him to play college football at the Colorado School of Mines. He started all four years in college and drew some attention from NFL scouts.
The All-American nose tackle earned a bachelor's degree in petroleum engineering during his time at the university, known for its rigorous academics and engineering program.
After graduation, Sumner participated in a handful of NFL pro day workouts and set the league's testing record for the bench press by pushing 225 pounds 52 times. Sumner was prepared to put it all on the line to make the NFL, but the league's season was interrupted by a lockout in 2011.
His dream of playing in the NFL was just within reach, but then the opportunity was snatched from him.
"I was still really counting on something happening," Sumner said. "I thought for sure that I would still get my shot and get my chance, but it never came."
In the meantime, he had been offered another job and was given a start date in case the NFL tryout didn't land him a roster spot. The company was willing to work with Sumner as he waited out the lockout in hopes of a second chance.
After months of waiting through the league's lockout, the opportunity to make an NFL team never materialized, Sumner said. Although upset, when the football door closed, the powerlifting door opened.
Sumner transitioned to powerlifting full-time in 2011. Since, he's traveled across the world and lifted against the strongest athletes.
Throughout his powerlifting career, Sumner has maintained his career in engineering. He is now the completions supervisor at Devon Energy Corp. in Gillette.
Thinking back to being a 140-pound high school freshman, Sumner said he was able to build muscle and grow his weightlifting numbers by constantly pushing himself to work harder. Once he showed growth was possible as a young adult, he was instantly hooked.
"Once you start to see just a little bit of progress, it just starts to get addictive," Sumner said. "It gives you something to chase everyday and it gives you something to constantly strive at and get better at. There's just no limit to the amount that you can improve."
Sumner did hear about an opportunity to return to the football field when the Wyoming Mustangs professional indoor football team started its inaugural season earlier this year. While the nostalgia of his football days had him consider it, ultimately he decided to keep the football cleats in the closet.
"I honestly think it would have been a lot of fun," Sumner said. "But I'm so broken and my joints are so jacked from lifting that I would probably tear an ACL the first time I tried to cut."
Staying the strongest man
Being one of the strongest men in the world is no easy task. An average week for Sumner includes six workouts that run anywhere between two and four hours each.
But Sumner doesn't just rely on his work inside the personal gym he had installed in his Gillette home. Much of the work to stay strong is the work he puts in at the kitchen table.
Strangers know Sumner because of his massive muscles and huge weightlifting numbers. But Sumner's friends know him for something he likes to call his "chicken shakes."
A signature chicken shake has water as its base and includes blending together chicken, rice, potatoes, almonds, peanut butter, spinach and olive oil. Sumner drinks eight chicken shakes a day for a total of 8,000 calories.
He drinks the protein shakes not for pleasure, but out of dietary necessity, he said.
"They are disgusting," Sumner said. "I'm about 400 pounds and I really don't have that big of an appetite. I can't eat all of that food and I can't eat enough calories to gain and maintain that weight so I had to find ways to get enough calories in."
Sumner's friends aren't huge fans of the chicken shakes, either. Those closest to him know Sumner fits in the weight room and not a five-star kitchen.
"People want to try them all the time," Sumner said. "No one's stuck with them like me though. I'm still working on the trademark."