Healthy Breakfast for Kids: Focusing on good food choices – NNY360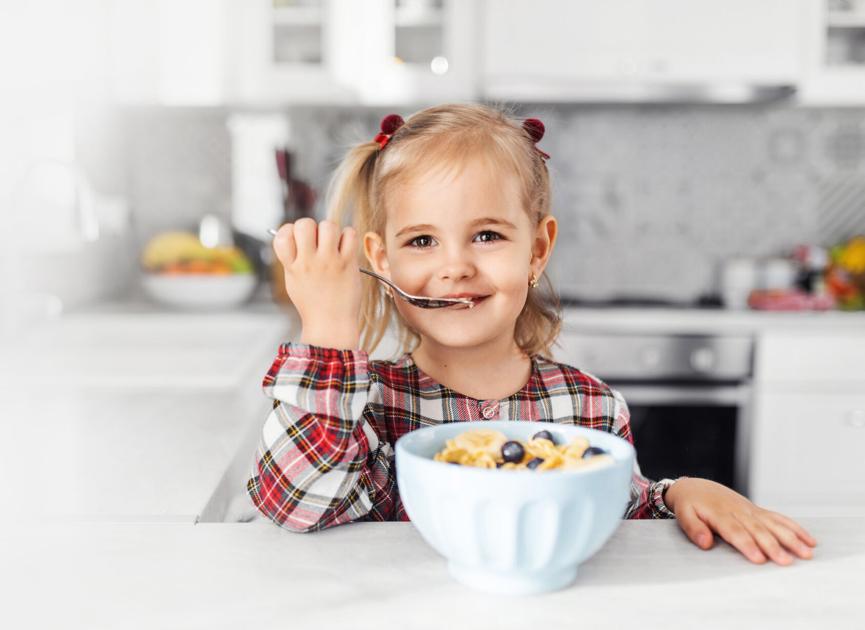 It's no secret that children who skip breakfast typically have more difficulty staying alert and concentrating during the first few hours of the school day.
But along with providing much-needed nutrition, a healthy breakfast can actually be a tool in preventing weight gain in children, according to the American Academy of Pediatrics. Studies have shown children who eat a healthy breakfast are less likely to be overweight than children who skip the first meal of the day.
A healthy breakfast is one that focuses on good food choices, such as oatmeal, fresh fruit and whole grain cereal (high in fiber and low in sugar). This type of breakfast helps children establish a more regular eating pattern throughout the day, and decreases overindulging at lunch and dinner, according to the AAOP.
Children who eat sugary cereals, donuts and pastries for their morning meal are getting "empty calories" that lack important nutritional elements such as fiber, vitamins and minerals.
But for many parents, school mornings are the most stressful time of the day, making it challenging for their children to eat a sound, nutritious breakfast before they race to catch the bus or get in the car.
"Parents who are rushing to get themselves and their children out the door in the morning might skip breakfast, but skipping breakfast comes at a high price for school-aged children," said Faith Lustik, Health Planner for the Jefferson County Public Health Service.
When school-aged children eat a healthy breakfast, "they have better academic performance, better concentration and improved behaviors during the school day," she added.
So what's a parent to do?
One option is to check if your school district offers a breakfast program, as many have for years. It's proven to be a helpful option, particularly for parents needing to drop their children off early so they can get to their workplace on time. "If your school offers a breakfast program, sign your children up," Ms. Lustik said.
If that's not an option, the best breakfast choices to offer children are the most nutritious ones: fruits, vegetables, whole grains, protein and low fat milk, she said. One way to ensure nutritious meals are readily available is to prepare as many breakfast items as possible in advance, such as muffins or homemade trail mix.
"For example, make whole grain blueberry muffins, and then wrap them individually so they can grab and go," Ms. Lustik said. "Or try a whole grain English muffin with a slice of cheese or homemade trail mix."
There are many helpful websites for parents looking for quick and healthy breakfast options for their children:
1. Cornell Cooperative Extension of Jefferson County is a local resource with a wealth of information about nutrition and parenting on its website, including suggested recipes, tips for healthy eating, food safety and eating healthy on a limited budget. ccejefferson.org/nutrition/recipes/kid-tested-and-approved
2. Kidshealth.org offers some traditional and non-traditional breakfast options for parents that are "easy to grab on the way out the door, or to prepare the night before the school day."
Traditional breakfast options include:
• French toast, waffles, or pancakes (try wheat or whole-grain varieties)
• Hot cereal, such as oatmeal or cream of wheat (try some dried fruit or nuts on top)
• Whole-grain toast, bagel, or English muffin with cheese
• Yogurt with fruit or nuts
• Fruit smoothie, such as a strawberry smoothies
Non-traditional breakfast options (that may sound a little unusual):
• Banana dog (peanut butter, a banana, and raisins in a long whole-grain bun)
• Breakfast taco (scrambled eggs and shredded cheese on a tortilla, topped with salsa)
• Country cottage cheese (apple butter mixed with cottage cheese)
• Fruit and cream cheese sandwich (use strawberries or other fresh fruit)
• Sandwich — grilled cheese, peanut butter and jelly, or another favorite
3. Super Healthy Kids is a website designed for families "working to create healthy eating habits in their busy lives."
"Between school drop-offs, works' schedule, and kids' activities, it can be hard to implement health routines in your everyday life," according to the website. "Kids are complicated – meltdowns, picky eating, health challenges and life transitions can leave you and your kids feeling out of balance at home."
This site offers numerous simple, healthy recipes that are popular with children, along with time-saving tips, organizational tools and inspiration for "time-strapped parents who still want to make healthy changes in their family's lives."
Norah Machia is a former Watertown Daily Times reporter and freelance writer for NNY Magazines. She is also the author of Celebrating Their Lives: Turning the Loss of a Loved One into a Legacy for Helping Others (Highpoint Life Publishing May 2021).