GOP frontrunner Zeldin discusses divide in NYS, business climate during Batavia visit – The Livingston County News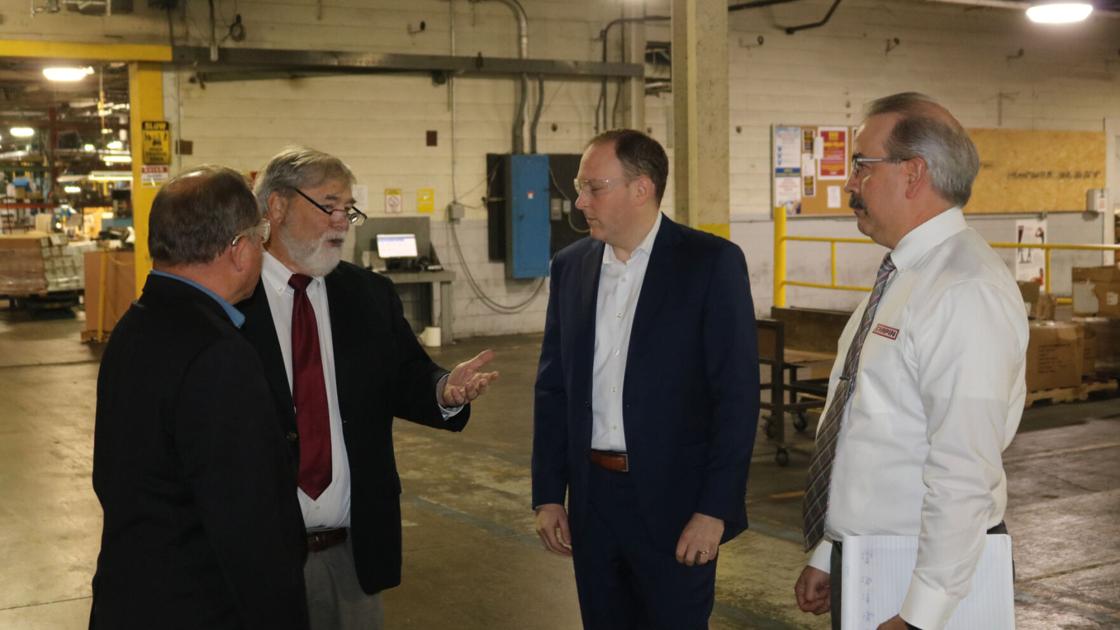 BATAVIA — Lee Zeldin, the frontrunner for the Republican nomination for governor for the 2022 race, says the upstate versus downstate view of Albany politics is not accurate.
"It's 58 counties and four counties. Even Staten Island is with so many other regions of the state — frustrated with the one-party rule we're seeing in New York City and up in Albany," he said Friday while meeting with executives at Chapin International Inc. of Batavia prior to a tour of the plant.
"There has been a budget strategy — we've seen (former governor) Andrew Cuomo do this every single year — pitting region against region, party against party, chamber against chamber," he said. "You're making education advocates come beg for education dollars that they should know are definitely coming, making veterans come beg for dollars for the PFC Joseph Dwyer (Peer Support) Program that they should know is coming without having to beg for it …"
The whole budget process is screwed up, Zeldin said, but it's also further solidified the divides in the state.
"I believe that if you live in one of those four boroughs (of New York City), you deserve to have a voice and representation in Albany because you're a New Yorker, but that shouldn't be at the expense of everybody everywhere else feeling like they don't have a voice and representation in the state capital," Zeldin said.
Zeldin talked about the way the budget process is supposed to work.
"I come from a legislative background. You have 213 members of the state Legislature and any one of them who have ideas deserve to have their voice and their ideas heard as part of this process," he said. "If you're an assemblyman or a senator representing Genesee County, you should have just as much of a say in the budget process as if you are an assemblyman or senator from Bronx. I feel like as far as bridging the divide, you set the culture instantly, as soon as you're sworn in, you put out an executive budget. That executive budget is putting out education aid dollars that let other regions realize that things are different."
Zeldin said his district, the 1st Congressional District, on the east end of Long Island, is heavily agricultural.
"Downstate, of all the congressional districts, that is the district you'll find that's the closest to Genesee County," he said. "I have eight towns in my district and East Hampton and Shelter Island are as close as you get to Manhattan you'll find downstate, other than Manhattan, but the other six towns … it's all agriculture and farming."
Being an effective member of the house, Zeldin said, has required him to strengthen his relationships with and understanding of the Long Island and New York farm bureaus. He has also realized that the best way to fight for the ag communities in his district is to help other members fight for the ag communities in their districts.
Regarding the business climate in New York state and the concerns Chapin International discussed with him Friday morning, Zeldin said if Chapin President and CEO Jim Campbell calls the governor of New York, the governor should be answering the phone or calling him right back.
"That's what happens in every other state. This isn't a foreign concept. It happens in everywhere else," Zeldin said. "I've heard all these different stories of business owners in New York who are feeling targeted by the state and they're deciding it's not worth it. They hit their breaking point and they flee."
There's a new bill that was just signed that would hold gun manufacturers liable for crimes committed way down the chain of custody of a firearm.
"That's going to result in New York gun manufacturers leaving for a more business-friendly state," he said. "Regardless of your thought on the Second Amendment, the business is going to continue to exist. They're going to keep up their business model, just all of those jobs that employ New Yorkers are going to be jobs employing residents of other states. Part of this is cultural. Also, some of the really bad anti-business bills that get through … they should not become law, especially in their current form and they have harmful impacts to the business climate in New York state."
"We have to bring spending under control. That's the best way for us to be in a position to reduce taxes —to tackle multi-billion dollar waste inside the Medicaid program," he said. "You can deliver Medicaid's mission just as effectively and be able to cut billions of dollars out."
Campbell said there are about 300 hourly employees at Chapin's Batavia and Clarence plants combined. The company makes different types of sprayers for home use and spreaders for lawn and ground maintenance, snow and ice control, and gardening. In August, Chapin announced it expanded by adding 500,000 square feet of manufacturing and warehousing space in Kentucky. There are over 100 employees in Kentucky, a number that's expected to double over the next couple of years, he said. There are about 100 in Ohio and about 85 employees in Michigan.
"Probably within 24 months, Kentucky will produce as many sprayers as we do here in Batavia," he said.
Some of the development in Kentucky was due to the business climate in New York state and some was due to not being able to get employees, Campbell said. He said the company jobs that are Kentucky and Ohio might have been in New York if the business climate was better here and there was more employee availability.
"We're big advocates of change for New York state. For some reason, the government around here believes businesses are all filthy rich," he said. "Every time they want to pay something, 'We'll just tax businesses.' Well, it gets to a point, we still have to have returns for shareholders, we can't afford it."