Get ready for an entertainment heat wave Here's a guide to what is sunny, breezy, steamy and sizzling for the months ahead – The Livingston County News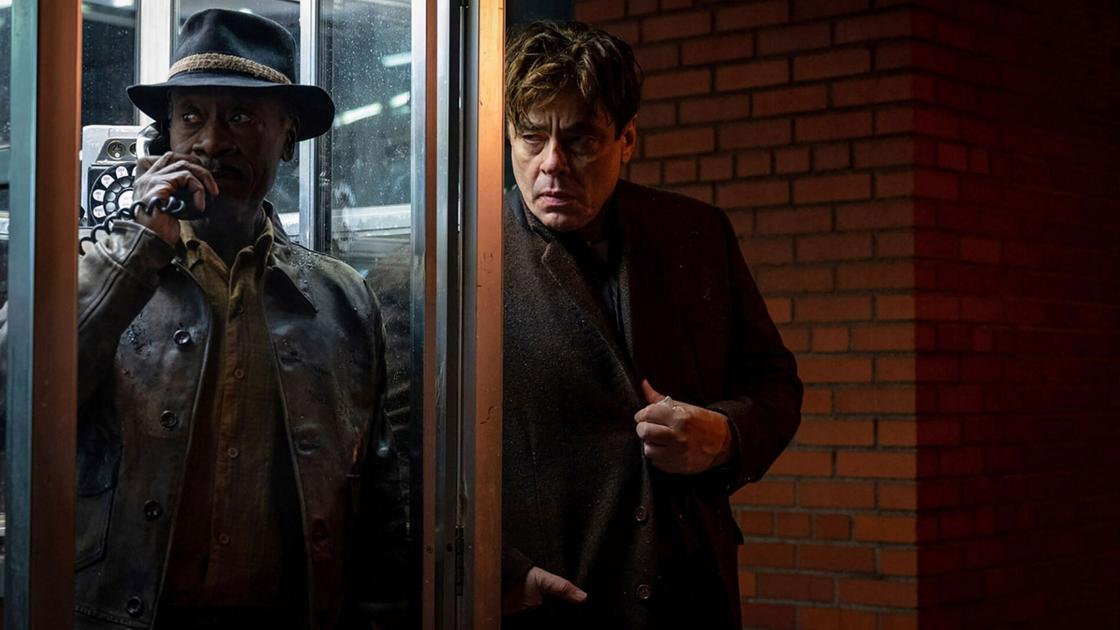 (TNS) – Remember 2019, when hot girl summer became a motto for living with confidence?
Well, with life getting closer to normal and vaccines nudging the pandemic into — fingers crossed — the rear-view mirror, 2021's entertainment calendar for the next few months has a similar mood.
Call it a hot everything summer.
Blockbuster movies are returning to theaters. Live concerts are set to resume. Television and streaming shows are back to being a nice part of the mix, not a sole entertainment lifeline. And with travel heating up again, beach books can actually be read on a faraway beach.
To navigate this soaring heat index for fun, here is a list of recommendations that are sunny, breezy, steaming and sizzling. You get the idea.
Michigan's resident acting great always keeps it real — remember his plaid dad shirt at February's virtual Golden Globes? His latest project evokes his home state's ethos of blue-collar endurance. "American Rust," a nine-episode series premiering Sept. 12 on Showtime, stars Daniels as the police chief of a Rust-Belt Pennsylvania town who is feeling "ticked off and kind of jumpy" when a murder investigation tests his loyalties. If the preview looks a bit like HBO's gritty "Mare of Easttown," that's a very good thing.
In real life, metro Detroit native Tim Robinson could be a calm, collected guy. But as a sketch comedian, he's made an art form out of wildly overreacting to life's little embarrassments. "I Think You Should Leave," his mini-masterpiece Netflix show, is back July 6 with a second season. Besides brilliantly making himself the butt of the jokes, Robinson always remembers his hometown friends. Let's hope for repeat appearances by his pals like "Detroiters" co-star Sam Richardson and Troy's own Oscar nominee, Steven Yeun.
Hot retro Motor City summer
The Detroit of the mid-1950s comes alive in director Steven Soderbergh's "No Sudden Move," available July 1 on HBO Max. The crime drama starring Don Cheadle, David Harbour, Benicio del Toro, Jon Hamm and more is about some low-level criminals given a simple assignment that draws them into a mystery that stretches to the heights of the automotive industry's power structure. The film was shot last year in Detroit under strict COVID-19 safety measures, because Soderbergh, who filmed 1998's "Out of Sight" here, would accept no other city as a substitute.
Six years ago, a young waitress from Detroit created a viral Twitter thread about a bizarre journey she took to Florida with a new friend to do some freelance stripping. It was as compelling as a novel and as vivid as a movie. Cut to June 30 when "Zola" hits theaters starring Taylour Page and Riley Keough. It's a comedy and a thriller that defies expectations and makes J-Lo's "Hustlers" seem mild. Director Janicza Bravo and screenplay co-writer Jeremy O. Harris have created a raunchy adventure that still respects A'Ziah (Zola) King as a strong woman and original writing voice.
Yes, Matt Damon is now old enough to play a Liam Neeson-esque outraged father out for justice. In "Stillwater," Damon is a worker for an Oklahoma oil rig who must travel to France to try and clear his daughter (Abigail Breslin) of murder charges. Think "Taken," if it were a serious drama directed and co-written by Tom McCarthy of "Spotlight" fame. It comes out July 30, just in time to make Damon's fans from his "Good Will Hunting" days feel ancient.
It has been almost a decade since "Gossip Girl" ended its run, which is way too long to be without fashion tips from impossibly beautiful rich kids. The newly reimagined "Gossip Girl" on HBO Max arrives July 8 with some notable improvements, like the inclusiveness of its cast of newcomers. But it's bringing back the original narrator, Kristen Bell (who grew up in Huntington Woods), as the voice of the title character with the hidden identity.
Sweating is a bodily function, but what exactly is it all about? "The Joy of Sweat: The Strange Science of Perspiration," out July 13, will explore the biology, history and marketing behind the moisture that makes us glow (to use a polite term). It covers everything from the role of stress in sweat to deodorant research that involves people who can sniff out, literally, the effectiveness of a product. Since the New York Times recommended the book as one of its 24 summer reads, you know that author Sarah Everts did sweat the details.
The 2021 Tokyo Games, which run July 23-Aug. 8, will feature the world's best gymnast, Simone Biles. She still enjoys competing, but quarantining gave her some time to improve her work-life balance, as she told Glamour for its June cover story (which comes with a dazzling photo spread of Biles). "Before I would only focus on the gym. But me being happy outside the gym is just as important as me being happy and doing well in the gym. Now it's like everything's coming together." For the 24-year-old GOAT, the sky — or, maybe, gravity — is the limit.
"What percentage of white women do you hate? And there is a right answer." That was among the questions posed by internet sensation Ziwe to her first guest, Fran Lebowitz, on the current Showtime series that carries her name. Combining interviews, sketches and music, "Ziwe" deploys comedy to illuminate America's awkwardness on issues of race and politics. The results are hilarious, so find out about Ziwe now before her next project arrives, a scam-themed comedy for Amazon called "The Nigerian Princess."
Take the driving skills of the reality series "Ice Road Truckers" and add one stoic dose of Liam Neeson and you've got "The Ice Road," which premiered Friday on Hulu. The adventure flick involves a collapse in a diamond mine, the miners trapped inside and the man (Neeson) who's willing to steer his ginormous rig over frozen water to attempt a rescue mission. Crank up the AC temporarily!
There is a better way to be a human being, and he shares a name with an Apple TV+ series. "Ted Lasso," the fish-out-of-water sitcom about an American football coach (Jason Sudeikis) who's drafted to lead a British soccer team returns for a second season on July 23 —the date that Lasso fans will resume their efforts to be more empathetic and encouraging, just like Ted. Only there's a new sports psychologist for AFC Richmond who seems impervious to Ted's charms and home-baked biscuits. She doesn't like Ted? We're gobsmacked!
When Michael Che guested on "Jimmy Kimmel Live" recently, his segment was interrupted repeatedly by Dave Chappelle, who kept plugging his "The Midnight Miracle" podcast available on Luminary. What Chappelle was selling is worth the listening. "The Midnight Miracle" brings him together with his co-hosts, Talib Kweli and Yasiin Bey, and his famous friends from the comedy world and beyond for funny and though-provoking conversations interspersed with music. If you were a fly on the wall of Chappelle's home, this is what you might hear.
The last 10 episodes of "Brooklyn Nine-Nine" start airing Aug. 12 on NBC, a too-short goodbye to one of the most underrated comedies in TV history. You can give all the glory to "The Office," but the detectives of the Nine-Nine could go toe to toe with Dunder-Mifflin's Scranton branch in terms of quirkiness, humanity and office romances and bromances. It's hard to pick a favorite dynamic among the characters, but the irritated father-incorrigible son vibes between Captain Holt (Andre Braugher) and Det. Jake Peralta (Andy Samberg) are sublime.
Hot musical comedy summer
Keegan-Michael Key and "Saturday Night Live's" Cecily Strong lead a star-studded cast in "Schmigadoon!," an AppleTV+ series premiering July 16 that magically transports a backpacking couple to a land of 1940s musicals. Until Broadway reopens in September, this parody love letter to the power of musical theater should do nicely. And the premiere episode's song "Corn Pudding"? Catchy!
Hall & Oates are criss-crossing the nation with enough 1980s hits —"Maneater," "Kiss on My List," "I Can't Go for That," "You Make My Dreams Come True," etc. — to make you want to trade your mom jeans for spandex leggings. As if they weren't enough top-40 goodness, their opening acts are Squeeze, still pouring a cup of "Black Coffee in Bed" all these years later, and K.T. Tunstall, whose "Suddenly I See" is immortalized as the anthem of "The Devil Wears Prada."
Hot all-female, all-Muslim punk band summer
A British import now airing on the NBC streaming spinoff Peacock, "We Are Lady Parts" would be notable alone for defying stereotypes about Muslim women. But this sitcom about an all-female, all-Muslim aspiring rock band is a gem of both representation and laughs, thanks to characters like Amina, a shy doctoral candidate in microbiology whose complaints about a guy she calls "Bashir with the good beard" inspires a song.
While Woodstock has become synonymous with epic music gatherings, the Harlem Cultural Festival of 1969 is finally about to get the pop-culture recognition it deserves. "Summer of Soul: (…Or, When The Revolution Could Not Be Televised)," directed by the Roots drummer Questlove, will hit theaters and Hulu on July 2. It chronicles a mostly forgotten event that drew superstars like Stevie Wonder, Nina Simone, the Fifth Dimension, Sly & the Family Stone and B.B. King. Using his vast knowledge of music, archival footage and interviews with performers and those who attended, Questlove has created a history lesson that's also the best concert you've never seen before.
Once you're all caught up with the summer streaming sensation "Loki" on Disney+, please turn your attention to two new films. "Black Widow," the long-awaited star turn for Scarlett Johansson's former KGB assassin Natasha Romanoff, makes its debut July 9. It's followed by "Shang-Chi and the Legend of the Ten Rings," set for Sept. 3 and starring Simu Liu ("Kim's Convenience") as the martial arts master of the title. All brought to you by the corporate global entertainment domination machine that is Marvel.
"Respect," starring Jennifer Hudson, arrives Aug. 13 at theaters, nearly three years to the day the world lost the Queen of Soul. Although Cynthia Erivo gave a fine performance earlier this year as Franklin in "Genius: Aretha" on the National Geographic network, the odds are good that Hudson, chosen by Franklin herself for the part, will be the definitive screen Aretha.
Terry McMillan calls "The Other Black Girl" essential reading. Entertainment Weekly describes it as "'The Devil Wears Prada' meets 'Get Out,' with a little bit of 'Black Mirror' thrown in." This debut novel by Zakiya Dalila Harris mixes office politics with suspense in its story of Nella Rogers, an editorial assistant who's the only Black staffer at a noted publishing company. When Hazel, a new Black employee, is hired, things seem to be improving. But then Nella starts receiving ominous unsigned notes. Sounds like yet another reason to keep working from home.
After nearly four months on Billboard's Hot 100 chart, "Leave the Door Open" remains the song most likely to provoke a quiet storm on the dance floor. The hit single from Silk Sonic (aka Bruno Mars and Anderson .Paak) may sound like a cover of a long-lost '70s classic R&B tune, but it's a contemporary song that can make you forget the humidity long enough for "kissing, cuddling, rose petals in the bathtub, girl, lets jump in."