GENESEO PREVIEW: Blue Devils expect to have a solid fall sports season with several teams in the Sec. V hunt. – The Livingston County News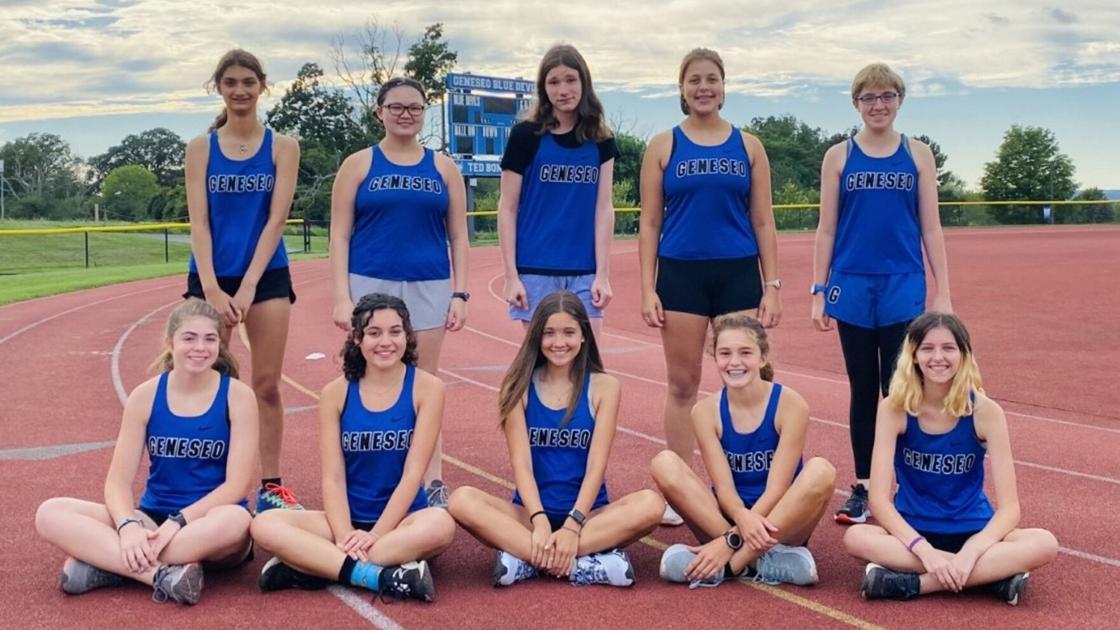 GENESEO — Head coach Chris Morens returns for his 10th season on the running trails this fall for Geneseo.
And he would love an encore to what his girls squad did in 2020, finishing a perfect 17-0 while winning the LCAA/GR Division III title.
Led by a strong core of runners, Geneseo also finished second at sectionals.
Morens lost a key member of last year's squad in graduate Addy Capel, who was sixth at sectionals, but returns all other scoring runners this fall including now freshman Catherine Staley, who placed second at the sectional event and now junior Mallory Rice, who was ninth.
"Catherine had a fantastic season last year and we are very excited to see how well she can do with a full season," coach Morens said. "I know she is looking forward to running in invitationals this year since we weren't able to do that last year. She will be a very strong top runner for us this season. Mallory enters her fourth Varsity season as one of the team's captains. From practice so far, it's clear that she wants to see this team succeed. While doing that, she is also looking like she will have another great individual year while pushing her teammates to run their best."
Staley and Rice at the top of Geneseo's line up will be a tough one-two combination.
Also returning is junior Jasmine Rozalski, who had a top 30 finish at sectionals and Morens expects her to take on a more significant role this fall.
"Jasmine continues to be a solid and dependable runner for the team," Morens said. "She will have an increased role as our third runner this year, but she is clearly able to take on that challenge week in and week out."
Other returners are Kelly Clark, Madeline Geiser-Getz, Zoe Neiderbach, Ayla Ray (team's other captain), Ava Scoville, Iris Tamura, and Aurora Winslow.
Geneseo will have a pair of newcomers this season including senior Chloe Barnard and freshman Nivean Rossborough.
"Both have great potential and could make a difference for the team by the end of the season," Morens said.
After an incredible season in 2020, Morens knows full well that duplicating that success is going to be difficult.
"It will certainly be challenging to repeat the success we had last year, however, we return most of that team and it's been clear since the season started that this group is looking to match the success," Morens said. "Similar to last year, we are just excited to come together and practice each day with the opportunity of a full season ahead of us."
The boys had some individual success in 2020 but lacked the overall depth they needed and finished 3-14 overall.
But look for returning senior Nicholas Staley to make a run at the top of the sectional podium as he placed second last fall to ND graduate Ben Skelly.
"Nicholas had an incredible season last year and is looking to pick up right where he left off," coach Morens said. "He's a captain of the team and has already set the bar high for the expectations of this group. I'm excited for Nicholas to have a full season during his senior year so he can look to set career bests and reach his full potential."
Also returning are seniors Joe DeBell and Harrison Oliver, who placed 31st and 39th respectively at sectionals.
"Joey and Harrison continue to be a one-two punch that is looking to get closer to Nicholas and improve our top three," Morens added.
DeBell is the other captain of the team this year, and other senior returners include Andrew Slade and Zachary Mogavero who Morens said, "looks to lead what could become a very competitive pack by the end of the season."
Top newcomers joining the boys team include eighth grader Simon Aguilar and freshman Reece Byrnes.
"Simon had a standout modified year in both cross country and track," Morens said. "He is a real student of the sport and has fit right in with the varsity group. He will help enhance our depth all season. Reece joins us also after a great modified track season, where he solidified himself as a member of the distance crew. Despite his age, he has easily joined this varsity group and will be a competitive member of the team. He and Simon will not only help the depth of this team, but will also keep the team competitive in future years after we lose our senior group this year."
Other newcomers include Joel Prinzi, Gavin Smith, and Harry Tamura.
"There is lots to be excited about with this group," coach Morens said of his boys squad.
"It's the first time that our seniors have had a team this deep and close in ability," he said. "We have a tough challenge ahead of us, moving up to Division Two, but we are looking to work hard and get better each week so we can make this team as successful as possible for our seniors."
Head coach Chris Butera (11th season) is looking for a bounce back season after finishing 3-9 last spring.
This year's top returners include seniors Bianca Willis (libero), Tiffani Aho-(setter), Kierstyn Davin (OH) and Taylor Curry (OH), juniors Shelby Baker (MH), Maggie Kennedy (MH), Megan Bailey (OH), Tessa Salatel (OH) and Reese Kleinhans (MH).
Top newcomers this season include senior Sophia Breemes-Illescas (OH) and juniors Mia Loughlin (setter) and Samantha McDonald (defensive specialist).
"Our team has been working extremely hard and should be a fun team to watch," coach Butera said. "The girls have been putting in the hours at open gyms, summer league and camps and are ready for the season. We have a good mix of veteran players who will lead the team and newcomers who are up to the challenge and fighting for starting positions. Playing in the tough LCAA always provides with fun, competitive matches throughout the year. We hope to be in the hunt at the end of the year and be playing our best volleyball come sectional time."
Head coach Chris Masters returns for his 21st season and will look to improve over last year's 7-9 overall record.
And you can bet they will with eight starters back this fall.
Geneseo nearly shocked the sectional bracket last fall when his Blue Devils reached the C2 finals before losing a close, 1-0 game to Naples.
Geneseo returns several talented players from a year ago including four-year varsity player Jack Rubeck, a senior defensive midfielder.
Also back is senior sweeper Jason Hammond, senior keeper AJ Agosto and senior middie Sean McCaughey, all third year varsity players.
Junior midfielder Ethan Bennett is also back for his third season.
Other returners include senior Luke Kingston (Mid), juniors James Hy (For), Sebri Fantauzzo (For) and Alex Brady (Def) and sophomore Adam Neidermaier (Def).
Top newcomers include juniors Lyndon Bailey (GK/Mid) and Aiden Palazzo (Mid) and sophomores Sam Chanler (Def), Kellen O'Brien (Mid) and Will Scheiner (Mid).
"In 2020, after learning our way through 12 regular season games, our young team developed into a championship caliber team when the sectionals began," Masters said. "We fell short in the finals and return eight starters from that team. With our new additions and excellent growth of our upperclassmen we expect to have a much better regular season and make a run at some hardware in October and November. I am excited to get back to a full season. I never realized how much I enjoyed August practices until we got them back this year and it feels right."
It was a dream season of sorts for head coach Nick Drollette (8th season) and his Lady Devils, who finished a perfect 15-0-0 winning the Section V Class C2 title with the victory over a tough Byron-Bergen squad.
It was Drollette's second sectional title as they won it in 2016 as well, taking that team all the way to the NYS finals.
He will have a few major losses to deal with as graduate Lainey Scoville, last year's second leading scorer, is gone as is sophomore Morgan Walton, arguably one of the area's top players and Geneseo's leading scorer with 22 goals, has transferred to Bishop Kearney to play hockey.
Scoville and Walton combined for 41 goals and 24 assists (106 pts) so those two will be tough to replace.
And a jump up to LCAA D-II will not be easy with Class C1 champion Avon now on the schedule twice.
But the return of junior midfielder Bridget McMaster, the quarterback on the field, is going to be crucial.
McMaster scored 15 goals and dished out 14 assists last year and she will definitely see plenty of opposing attention on offense this fall.
Watch for McMaster as she will be one of the top players in Section V this fall.
Other key returners include Brogan Henderson (Sr., Def., 1G, 1A), Sydney Matthews (Sr., Mid., 2G, 2A), Rachel Matthews (Soph., For), Mary Claire Rollins (Jr., Mid., 4G, 2A), Aydah Daniel (Sr., Def), Ellie Schiener (Sr., Mid.), Lili Weber (Soph., Mid), and Brynn Videtti (Jr., For, 5G, 4A).
Top newcomers include Morgan Wolcott (Jr, Def), Caroline Capel (Soph., GK/Mid), Tessa Reilly (Jr., GK/Mid), Tessa Pacheco (Jr., Def), Maddy Mark (Soph., Mid/For), Emily Lamb (Soph., Mid) and Jesslynn Kelly (Jr., Mid).
"The girls this preseason have already shown an eagerness to step up to the plate and fill the shoes of a successful team from last year," coach Drollette said. "The chemistry with this team is the best I've had in my eight years coaching the girls. They are constantly looking to push themselves to become better than they were the day before. Stepping up to D II is going to be a challenge that will push this team and also help to motivate them to work hard every single day so they can accomplish the lofty goals they've set for themselves."