gBETA hosts cutting-edge new businesses | Business News | beloitdailynews.com – Beloit Daily News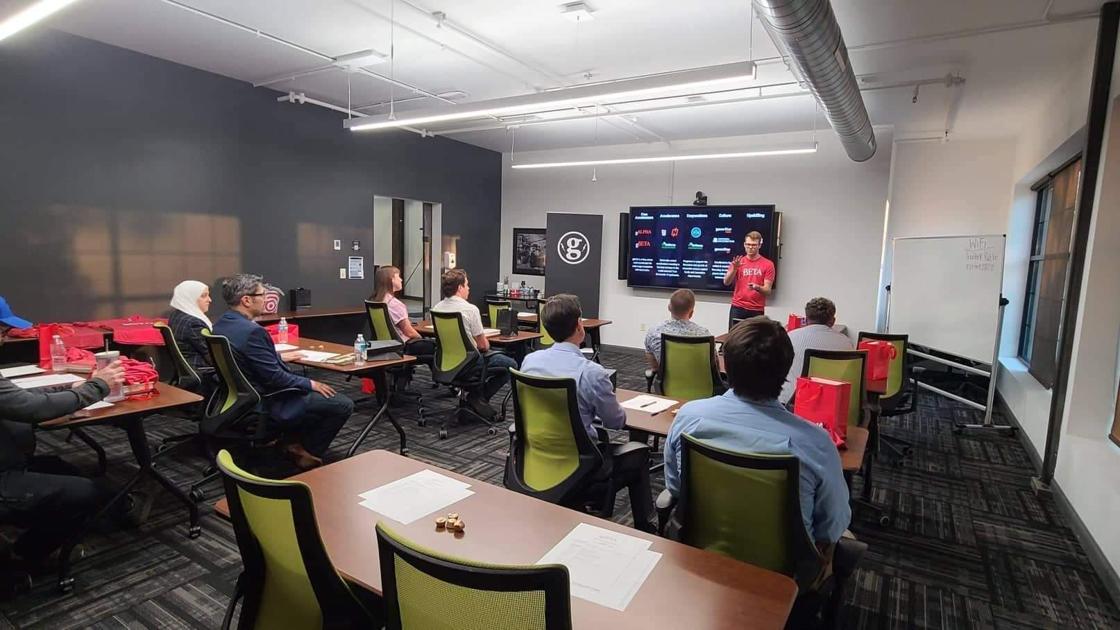 BELOIT—The future is bright for five locally-grown and innovative business startups that will be participating in the fall 2021 gBETA Beloit accelerator cohort, according to Mason Cook, gBETA Beloit Director at gener8tor.
"They are spectacular," Cook said.
The five selected companies represent a wide variety of businesses, ranging from medical-grade storage solutions to mental health focused mobile applications. Four of the five were created in the gALPHA business creation program. All of the companies have either regional CEOs and/or at least one team member with a direct Beloit connection.
The star-studded cast begins with Care-Stow, which designs medical-grade storage solutions for hospitals, nursing homes and care facilities. Its CEO is Roger Crook who works at SwedishAmerican Health System and is a Rockford resident.
Dock Clock works with large retailers to offer a digital scheduling platform for freight delivery to their many stores' dock doors. Its CEO is Mark Losching of Janesville.
Tad More Tailoring and Alterations is the number one online tailoring platform. Its CEO Sarene Alsharif is based in Rockford where she helps provide convenient, online clothing alterations to people all over the nation.
TR∆CE allows transgender individuals to track their transition and build a safe community of allies to support their experience in this first-to-market app. There are currently over 2.25 million people in the United States who identify as either transgender or non-binary, yet no significant dedicated mobile app exists for this community and their allies. TR∆CE intends to change that, with transgender celebrity Aydian Dowling as CEO and a foundation of trust and loyalty in this community. While Dowling lives in Austin, Texas the team has Beloit ties with a Beloit developer. The app was publicly launched on Monday and more than 1,200 people signed up in 24 hours.
Support.ed's mobile app provides accessible support, education and resources to parents who need help handling their children's big emotions. CEO Domenica Doro lives in Carpentersville, Illinois, but is from Wisconsin and their developer is from the Roscoe and South Beloit area.
Cook said this year's lineup includes four companies brainstormed during the gALPHA program, a free four-week business creation workshop open to the public. People were welcome to come in with ideas to pitch. gALPHA worked with 58 participants to create teams for various businesses deemed as venture-backable
"That is having a well rounded and complete team which can executive outside help and is in a $1 billion or more market with few direct competitors," Cook said.
The Fall 2021 gBETA Beloit program is the ninth cohort for the Beloit startup accelerator. Since its inception in 2017 through a partnership with Irontek, a coworking space and tech hub in downtown Beloit, gBETA Beloit has worked with 45 companies that have gone on to raise over $13 million in growth capital and create over 100 jobs.
gBETA is a free, seven-week accelerator that works with five startups at a time for no fees and no equity. gBETA is a program of gener8tor. Participants receive intensive and individualized coaching and access to gener8tor's national network of mentors, customers, corporate partners and investors.
The program kicked off on Sept. 30, and the startups will work with the gener8tor team over the course of seven weeks to meet mentors, gain customer traction and pitch to investors.
The program will culminate on Dec. 1 at the gBETA Beloit Pitch Night, which will highlight each of the five companies. This event will be an opportunity for the public to listen and learn more about the startups and network with the founders and other community members. For more information and to RSVP, visit www.gbetastartups.com/beloit/pitch-night.
The gBETA Beloit program is supported by generous sponsors Hendricks Commercial Properties and Irontek. gBETA Beloit is held twice per year, each time with five companies from across all industries and business models.