Gas line cut, Celina business evacuated – The Daily Standard
Saturday, May 22nd, 2021
By William Kincaid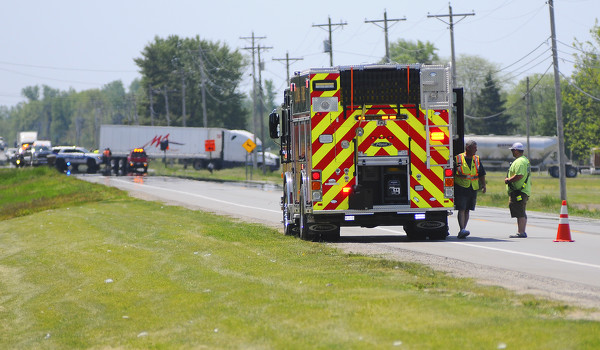 CELINA – A mower blade struck a high-pressure gas line near The Boathouse in Celina on Friday morning, prompting authorities to evacuate the business and close a large stretch of U.S. 127 for about two hours.
Mercer County Sheriff's Office Nixle messages told the public to avoid the area at 11:40 a.m. and indicated U.S. 127 reopened around 2 p.m.
A Boathouse employee was mowing grass on Friday morning when she reportedly struck the Dominion Energy line, Celina Fire Chief Doug Wolters said Friday. The line was near the surface, possibly due to freezing and thawing of the ground, he surmised.
The rupture could have resulted in disaster.
"She didn't get hurt. No injuries," Wolters said. "The spark of the blade could have ignited it."
Wolters responded to the scene at about 11:30 a.m. A fire truck was parked on U.S. 127 to mark the approximate area of the ruptured line. Dominion Energy of Lima was contacted and dispatched a crew to the scene, Wolters said.
The Boathouse was evacuated after gas readings were detected inside the building.
Authorities kept the area clear of traffic as they awaited the arrival of Dominion Energy.
"Natural gas out in the open – as long as there's no ignition source – it's not going to cause a problem," said Mike Robbins, director of the Mercer County Emergency Management Agency.
The line was shut off at approximately 12:57 p.m.
A pungent smell of gas was detectable all the way up to Bella's Italian Grill.
Also responding to the scene were officials from the Celina Police Department and Mercer County Emergency Management Agency.
No further information was available by press time.