Fitzgerald Collection featured in local film is a self-fulfilling prophecy – El Dorado News-Times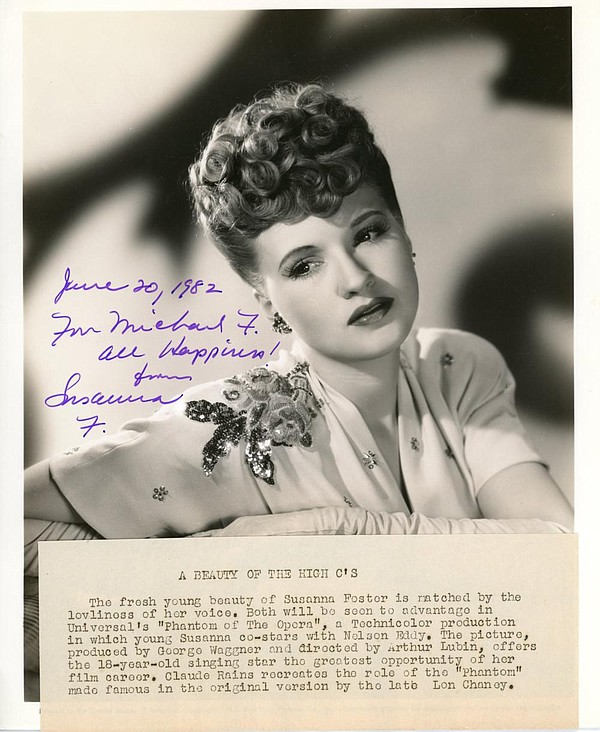 The 7th Annual El Dorado Film Festival took place back on Nov. 13. Numerous short films and features were shown throughout the two-day event. One of the surprising showings was an impromptu premiere of a short film by festival organizers and filmmakers Paul Petersen and Alexander Jeffery.
"The Fitzgerald Discovery" told a story that is unique to El Dorado: the story of the late Michael Fitzgerald and his expansive film and Hollywood paraphernalia collection, some of which dates all the way back to the 1930s.
"Producing this documentary about the Michael Fitzgerald movie memorabilia collection was like processing a string of one captivating discovery after another," Paul Petersen, co-director and producer of "The Fitzgerald Discovery" said. "From the reel-to-reel audio tapes of Michael speaking with the stars of vintage Hollywood to the hundreds one-of-a-kind film reels he accumulated over decades, the research unearthed some true gems. It became apparent early on that not only is his collection gargantuan but incredibly personal."
The enormous Fitzgerald collection is currently housed and can be viewed by the public at the South Arkansas Historical Preservation Society.
"I have processed 845 reels, I still have 325 to go," Fitzgerald collection curator Darrin Riley said. "We are talking about 1,100 reels of film, television, specials, shorts,and military features, public service announcements, during the war (WWII); the collection contains over 10,000 pieces and that's with headshots, studio stills, movie stills, pressbooks."
"It is truly staggering when you see just how much of American history is right here," he added.
Riley is featured in the film. He is shown wearing white gloves and meticulously handling the collection, some of which is 80 years old.
"When you're dealing with an original that is 80 years old, they can be extremely fragile," Riley explained. "So it is a lot of care going through it so we don't actually damage the film more anymore than it may already be."
Michael Fitzgerald grew up and lived most of his life in El Dorado. He would become an accountant and later live and operate mostly from an apartment he had in Shreveport, Louisiana, according to Riley. Fitzgerald would travel relentlessly back and forth between Hollywood, El Dorado and Shreveport to engage with his love and curiosity for film, the actors and actresses, and the glamour of it all.
But where did such a fascination for Hollywood and the art of movie making come from for an accountant from El Dorado, Arkansas?
That story varies depending on who you ask, but Riley shares the version Tommie Mae Murphy Fitzgerald, Michael Fitzgerald's late mother, used to tell.
"He had seen an early "Lassie" film when he was about ten years old. He then looks at his mom and says, 'I want to know Lassie's boy.' Lassie's boy played in the feature was Gary Gray," Riley explained. "So he started writing as a pen pal to Gary Gray and they became fast friends for over forty years. That was the opening for Michael."
From that moment on, Fitzgerald was like a sponge soaking up so much knowledge about Hollywood, film, actors and actresses.
"He was a walking memory. They called him 'Mike, the memory,'" Riley said. "He knew anything and everything about these people's careers. Susannah Foster (1943 Phantom of the Opera) used to joke with him and say, 'You know more about me than I know about me."
Fitzgerald's collection and story is special and unique to the city of El Dorado but a lot of his life's work may have been lost if Diane Alderson and the Preservation Society had not been swift in action back in 2006 right after he passed away. Jerry Fitzgerald, Michael's brother, initially wanted to throw all of the collection away. Michael filled his house here in El Dorado and the portable buildings he had in the backyard with his vast collection. Luckily, a realtor who was working with Jerry Fitzgerald got in contact with the Preservation Society and Alderson, Preservation Society Chair, and told them about the collection.
"It kind of looked like an episode of hoarders," Riley said. "His home was not large. He had a screening studio in one of the portable buildings in the back."
"His brother had no love for film or television; he was a military man. So Jerry gave Alderson and the Preservation Society about 24-48 hours to clear out all that they could and what they couldn't, went into a dumpster unfortunately," Riley continued.
Gallery: The Fitzgerald Discovery
Riley has been combing through this collection for over three years now. He would love to see this collection be used for research and educational purposes and hopefully have a forever home in El Dorado, given that this story is specific to the city. But for now, the long term plans for the Fitzgerald collection are in limbo.
"Right now there is a committee of various individuals from our (Preservation Society) governing board and the community to ask important questions around the collection," Riley said. "Is it possible to develop and build a museum here to highlight this collection and be a draw for tourism or do we break it all apart and sell it off to various other museums or entertainment entities?"
Darrin Riley knows what he would do, especially considering El Dorado and Union County's history with entertainment.
"You don't do something like that (sell if off) to something like this (the Fitzgerald collection)," Riley said. "El Dorado has always been a hub for artists. It is a part of the history we just don't talk about. We talk about Elvis coming here but we don't talk about how many times he came here. Elvis had a girlfriend here. We don't talk about Johnny Cash fishing here. We don't talk about Dolly Parton coming here and that's really sad."
Riley, who self-identifies as a film and history fan, talks with so much enthusiasm when he shares his vast knowledge of American history and cinema, but even more so as it relates specifically to El Dorado. He expanded on the unique connection between El Dorado and early twentieth century Hollywood.
"It is a little known fact that "Gone with the Wind" had two premieres," Riley shared. "It premiered in Atlanta and it premiered in El Dorado, Arkansas. Those actors and actresses got off the train and went to the Rialto (Theatre) and were there for the premiere. And afterwards, went to the speakeasy on Smith street and had a couple drinks."
Fast forward back to 2020: the connection between El Dorado, entertainment and the arts is still here. The presence of El Dorado's own film festival is a testament to that..
"The fact that this collection was found in El Dorado, Arkansas is especially intriguing. As a filmmaker myself, it was enlightening to interview personalities such as renowned Hollywood appraiser Anthony Slide and the curator of the collection, Darrin Riley," Petersen said. "With their insight, Alex and I have learned so much about the golden era of Hollywood. With this short documentary, we take pride in creating a glimpse into the lives of these people, which we know was Michael's driving desire."
Fitzgerald was quite accomplished during his life. He wrote "Universal Pictures: A Panoramic History in Words, Pictures and Filmographies," published in 1977. He wrote his own column with Western Clippings film production and contributed to a couple more books. For 20 years he hosted the "Jivin' Jacks and Jills Hollywood Reunion." The Jivin' Jacks and Jills were an early twentieth century American dance group of the World War II era.
But even with all of his accomplishments, vast knowledge and accomplishments, Michael Fitzgerald had one primary goal.
"Michael did this so these people would never be forgotten," Darrin Riley said.
Right now there are no immediate plans for releasing "The Fitzgerald Discovery," but both Petersen and Jeffery are hoping to do something with the short documentary in the near future. The Fitzgerald collection can be viewed at the SAHPS Gallery of History located at 412 E Faulkner in El Dorado.