Exclusive clip: Jupiter Entertainment, Curiosity team on feature doc "Heval" – Realscreen
Heval is the first-ever feature-length original documentary from Curiosity. Produced by Jupiter Entertainment, the film tells the story of British-born actor Michael Enright, who left behind a career in Hollywood to volunteer to fight against ISIS in Syria.
Seen by some as an act of selfless heroism and by others as a craven publicity stunt to advance his acting career, Enright wasn't welcomed back by either the UK or the U.S. when his service ended.
Heval features interviews with Enright, both his supporters and his detractors, as well as foreign affairs experts. The film also features the actor's own never-before-seen helmet-cam video of battles with and interrogations of ISIS fighters. The film promises to give viewers unprecedented access into a war against terror and one man's controversial role in it.
Ahead of the premiere of Heval on Curiosity on September 23, Realscreen spoke with Adam R. Wood, director and producer of the film; Patrick Reardon, executive producer and president of Jupiter Entertainment; and Rob Burk, head of original content for Curiosity.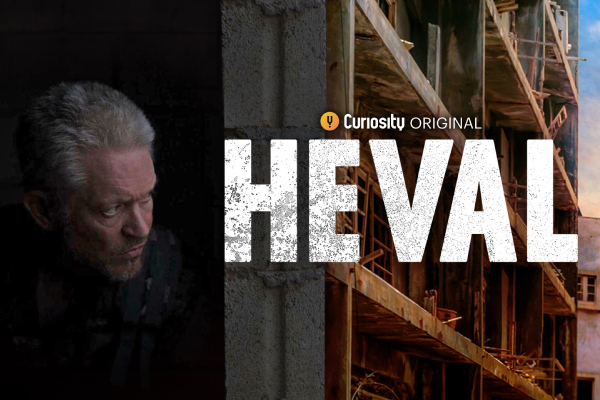 This interview has been edited and condensed for clarity and length.
Heval is Curiosity's first feature film. How does it fit into Curiosity's strategy, and does it denote a change or shift in your approach to content?
Rob Burk: Heval is our first original feature-length documentary, strengthening our strategy over the last few years as we've acquired a number of select traditional feature docs. And this fall, kicking off with Heval, we're premiering several more original feature-length titles. It's part of our overall strategy to satisfy our viewers' curiosity with the world's best factual programming — regardless of length. We like to describe that as not changing the lens but expanding the aperture of what we're doing. From a format standpoint, that means continuing to expand our offerings beyond traditional half-hours and hours. That also means producing programs that feel timelier and more contemporary, including films in the modern conflict and international affairs space, like Heval. We still will not be doing news or social docs. But we will continue to produce great, entertaining stories that provide viewers with tremendous insight about the world and universe they live in.
Is Curiosity looking to commission feature documentaries going forward?
RB: Curiosity likely will continue to commission additional feature docs moving forward. It will all depend on what great new stories our production partners come up with, and what format and length we determine is the best way to tell those stories.
What are Curiosity's plans around feature documentary projects in general?
RB: Curiosity plans to continue expanding its feature doc offerings based on the availability of compelling, entertaining and engaging factual films. At the end of the day, we like to say that the story should dictate the length of all of our programs. And if the story can sustain for 90 minutes, then it is certainly worth telling it in a feature-doc format.
Obviously Michael Enright's story is a strange and complex one. What made you want to tell it?
Adam R. Wood: The uniqueness of Michael's story is that it's both straightforward and virtuous but also completely unusual and at times counterintuitive. Here we have a British man who adores the U.S.A. and is the embodiment of the American dream: a successful working actor, driving a sports car, living and succeeding in Los Angeles. However, he was willing to give that up for a cause he felt so compelled to involve himself in that has, so far, seen that life possibly irrevocably shattered. But there are also elements of his story that resonate with all of us, particularly when we reach a certain point in our lives, that speak to our inner narratives, our ego, and the story we want to craft for ourselves. The questions of "What have I done with my life?," "Did I stand up for what is right?," "What is going to be my legacy?" Heval and Michael's story is as complex and nuanced as the man himself. Juxtaposed against the backdrop of the fight against Islamic State, the convoluted and tangled backdrop of the Syrian conflict and the Kurds' existential right to exist in autonomy were just a few of the many elements that compelled me to help tell this story.
Heval gets into some pretty heavy territory, not just in terms of war and combat footage, but also politics. What were your concerns when it came to tackling a subject so potentially divisive?
AW: As a filmmaker, in the course of making any film or TV show your biggest hope and concern is that your end product will be seen and appreciated by as big an audience as possible but to also not alienate too many of them due to political bias. All films, especially documentaries, have to take a position and a viewpoint. However in the case of Heval the message, at its core, is one of unity that transcends our bipartisan divides. The desire to stand up for the weak and downtrodden is one that crosses party lines and is inherently American. It's worth noting that Michael campaigned for President Obama in 2009 and under his administration the Kurds were provided non-lethal aid, training for the YPG, and air support. Equally, under Donald Trump's presidency that support was increased to include weapons, vehicles, U.S. special forces on the ground, and a ramped-up bombing and air campaign.
Similarly, Michael found many supporters within both the Democratic and the Republican parties during his time out in Syria and once he left the region. Men and women from both sides of the aisle, despite political allegiances, recognized a man who had the courage of conviction to stand up for other people; who identified with a man of faith; who believes in democracy and standing up for what he believed was right. However the push for a Kurdish homeland is a contentious issue for some on the world stage. And in a somewhat ironic twist, in Michael's quest to help the Kurds defeat ISIS and (in a small contributive part) assist in their hopeful desire to be recognized and have a home of their own, he has lost his. As such, any initial concerns I had about tackling such potentially divisive subject matter were insignificant as compared to the importance of the narrative and to tell the story of both Michael and his Kurdish comrades.
What has the experience been like partnering with Curiosity for Heval?
Patrick Reardon: Curiosity are incredible partners. We are fortunate to have collaborated with them before for our series 4th and Forever. They allow our production teams creative autonomy and trust us to explore these complex stories with raw honesty and fervor.
Watch an exclusive clip below: