Encouraging the Expansion of Digital Technology in Agriculture – Lancaster Farming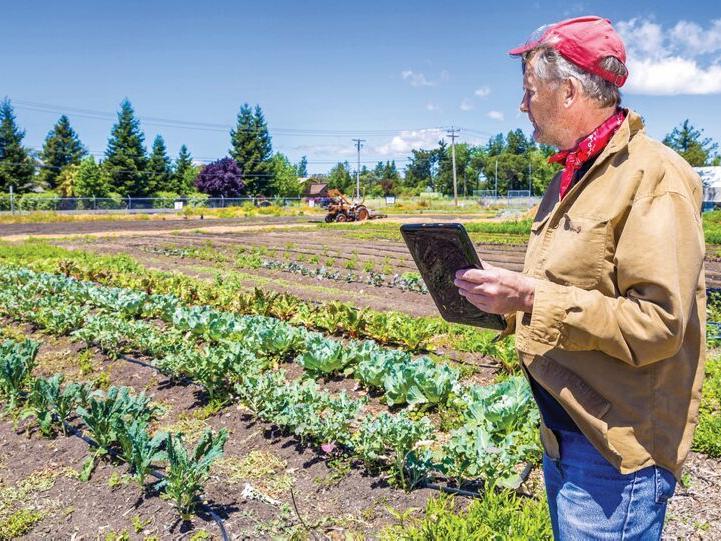 With the impending passage of the infrastructure bill of 2021, farmers are looking forward to the expansion of rural access to broadband service.
The Farm Foundation recently held a forum to discuss advancing digital agriculture at the farm level. The online forum discussed what helps and what hinders farmers as they adapt to using digital technology to improve their agriculture practices.
Two important takeaways from the forum were a review of what farmers need to understand about software and the providers if they're going to maximize the use of digital technology on their farms, and second, the recruitment of young people with strong software development skills to produce software for the farm that is easy to use and provides the level of information and support needed by farms today.
Participants in the forum were representatives from family farms, farming cooperatives, and agriculture companies.
Teddy Bekele, senior vice president of Land O'Lakes, opened the forum with the reminder that "the future of farming is data driven."
That means technology is needed that provides remote sensing, computer imaging and augmented technology. Those are complicated and vital data collection services that must work with little or no time for field testing or corrections. Farmers need software that works. Bekele said that there are lots of technology solutions coming on the market, but these varied data tools lack compatibility.
Additionally, the software designers don't have the time or the resources to properly train the farmer to use their software. Currently, the broadband services on which the technology relies are unreliable or non-existent. Approximately 60% of farms lack sufficient connectivity.
And that's where MiEnergy Cooperative comes in. Dean Nierling and Brian Krambeer represented that cooperative which serves over 18,800 members in 11 communities.
The cooperative has secured grants and loans to assist farmers with fiber-optic connections to the internet. The cooperative recognized internet access as critical to successful farming. They have developed training programs for farmers on new software and advise farmers on the best equipment to maximize internet access once it's available.
Steve Pitstick has been farming in Illinois for 45 years. He's been using GPS soil sampling since 1993. When he began using "real-time" data collection in 2012, "everything changed in the field."
"Old data" is of little use in the fast-changing environment of advanced bio-engineered agriculture. Pitstick also emphasized that farmers want the data they collect on the farm to be proprietary.
"I don't want to be giving away my recipe for what I do," he said.
Currently, there seem to be no assurances that a farmer's data will remain under their control. Pitstick pointed out that farmers were early adopters of technology and have learned a lot by sharing data.
Their concern now is will they regret having put their farm's information out there? What if laws change? There would be documentation that farmers would not control. And then there's the issue of output-based pricing.
However, Pitstick said he's done better managing the machines and the planting with technology.
"Twenty-five years ago I harvested 125 bushels per acre; today it's raised to 220-240 bushels an acre," Pitstick said.
Nierling agreed, adding that with technology he has both saved money and gotten a better yield.
Investing in Ag
But farmers have to weigh the costs and benefits of using more technology.
For his cooperative members, Krambeer said, it cost $18,000 to connect each farm to broadband. He compared the investment to the era of rural electrification.
With the level of financial investment farmers make in digital technology, farmers need a reliable means of learning how to optimize the use of that technology and the digital data that is produced. Farmers don't have time to spend in training programs. They need software and equipment that is easy to understand and foolproof.
Bekele said that the infrastructure bill, which was passed in the Senate, will "put a dent" in the cost of connectivity for rural America, but it won't be the total solution. Approximately $65 million will be used attempting to connect 40-60 million households now without connectivity, according to the Federal Communications Commission.
Krambeer added that state governments can also allocate resources to expand broadband for rural citizens of the state. He pointed out that while fiber optics is best, long-term, fixed wire or a satellite dish can be used to get the most folks connected. Then, states and the federal government can go deeper to find the funds to bring everyone up to fiber-optic connections.
The question of cost included how costs of the development and implementation of digital technology should be shared. There are different types of data collected, and some of it goes to farmers while some goes to processors, some to distributors and some to consumers. Then there's the cost of learning to use the technology and training workers to use it. The more intuitive the software, the less costly the implementation for the farmer. By the same measure, however, the more user-friendly the software, the more expensive it is for the developer. Tailoring the software and educating everyone to use that software requires a significant investment of personnel and time.
And that's where Teddy Bekele explained a new solution being implemented by Land O'Lakes.
They're recruiting talented college grads who may be unfamiliar with agriculture but very comfortable in the software development realm. Land O'Lakes is offering young people an opportunity to impact food production and help farmers prosper, and young people are buying into this opportunity.
That means, farmers and agriculture specialists can tell the software developers what is needed, and these young programmers can produce user-friendly software that does what the farmer and the processor need — more quickly and cheaply than in the past.
Ease of use and reliability are the keys to the usefulness of software for farmers.
The future of farming lies with advancements in technology, and farmers are remaining involved in every step of the digital developments.