Discovery Center brings science opportunity to young, old alike – The Capital Journal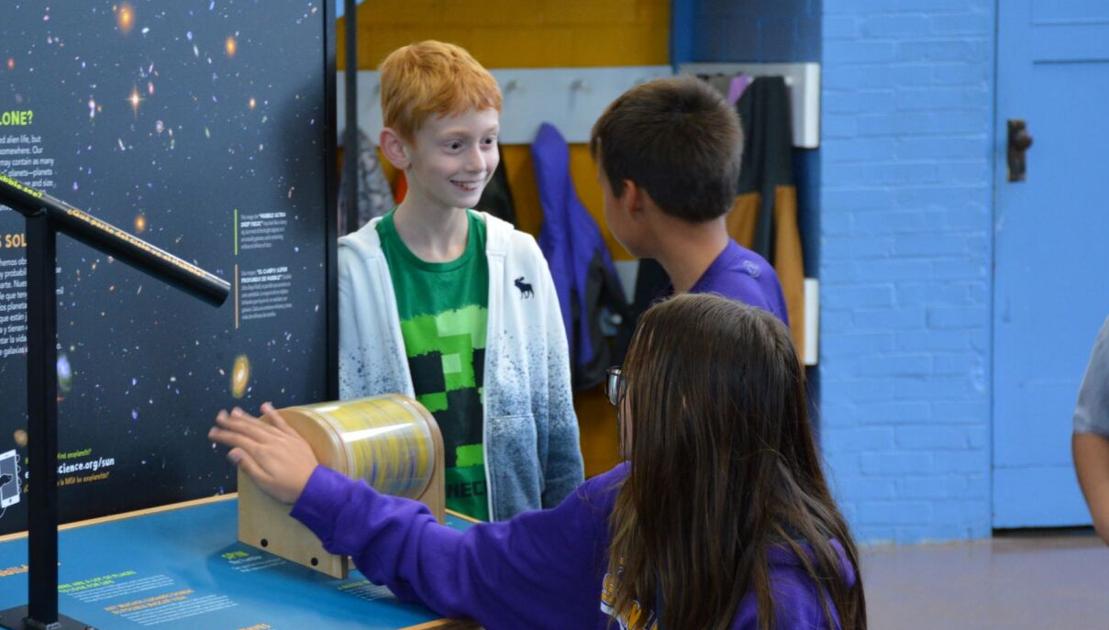 There's plenty of appetite for science across the state, and the South Dakota Discovery Center's staff is doing what they can to bring opportunities to adults and students.
Executive Director Rhea Waldman said the Discovery Center found students might not be aware of existing opportunities to explore science in South Dakota.
"I think that the biggest challenge that we're facing is that our students that we have in the area are just not aware of the opportunities that we have for a career later on," she said.
Waldman pointed to Pierre specifically, which doesn't have a university, and STEM — Science, Technology, Engineering and Mathematics — exposure that comes with them, within a two-hour radius.
"We're in a little of an education desert, as are a lot of rural communities in central South Dakota," she said. "Especially for students that are preparing for their future career. They just don't know what is available because they don't have that direct connection that they see and that connection system to professionals in general and opportunities that they might have. So, I think that is an epic challenge that we're facing."
But the Discovery Center is working to bring STEM exposure to the local and rural areas of central South Dakota, and Waldman said it found some success.
"Obviously, the exhibit hall is part of it," she said. "And we do, once in a while, like 'meet a scientist,' and we bring people in from all over the state to show everyone, not just kids but also adults, what is out there in our state and what the amazing research is that people are working on."
While the exhibit hall off Sioux Avenue plays a critical role in the Discovery Center's efforts, Waldman said they need to go beyond it to bring more science to the region, including working with teachers, libraries and after-school programs to get role models into the community.
"One of the things is we're trying to connect them virtually with people or visit them in their communities to really get them hands-on science and connect that to careers that they could pursue themselves," Waldman said. "So that they're really working on their STEM identity that they're going to be able to see themselves as STEM professionals in the future as well."
The Discovery Center is working toward the STEM exposure goal by connecting students with scientists, like astrophysicists from the Harvard and Smithsonian Center for Astrophysics in Massachusetts. Waldman said it had been a popular partnership among students.
"We're bringing in astrophysicists together with a project where students can request images from objects in space through a remote control telescope," she said. "And then, they can process the images so that they have then, in the end, an awesome picture of the Orion Nebula and then connect to that."
The students also get to ask researchers at the Harvard-Smithsonian questions about what it's like to be an astrophysicist and what they do during their daily life. Waldman said the program connects to the established curriculum, so it doesn't act as extra work thrust on the students.
There are options for adults too. Waldman said the Harvard-Smithsonian also has an online option called the MicroObservatory Network for anyone to request images and connect.
"So that's a really cool thing that a lot of our partners are doing," she said.
The Discovery Center also connects students with other organizations and researchers. Waldman said the critical part is the essence of the effort, which is not to present STEM professionals as random people but how the topics they discuss connects to them.
"So that they can do something," she said. "So they can experience for themselves, not just listen to, 'Well look at my fantastic career,' but really see oh this is what they're doing, experience for themselves and make the connection that, 'Oh, this could be me.'"
Exhibit hall
On Oct. 1, children from the Stanley County GOLD program filled the Discovery Center's hall as they excitedly explored the different science-related displays and interactive exhibits.
After visiting the fire department and youth center, GOLD program Director Kristie Maher said the after-school and summer program made its way to the Discovery Center. And the Discovery Center was a welcome sight for the children.
Maher said the kids love it there.
"It gives a little science opportunity here," she said.
Exhibit Hall Manager Kendra Baucom found everything catches kids' eyes when they walk in the door and make their way around the different displays.
"They, of course, love the spinning Ferris wheel and the plane hanging from the ceiling, they're kind of like, 'What?'" she said. "And they usually just explore at their own pace. Just run past the front and work their way back. A lot of them beeline for the stairs because they don't know what's up there."
Baucom said it could vary, but many of the kids will come with questions, especially about exhibits they find exciting.
She said the Discovery Center geared its exhibits toward children, but it isn't uncommon to get adults stopping by to explore.
And for those adults looking to find a bit of science, don't worry. The Discovery Center does have some options to look forward to exploring.
The Discovery Center is among 500 locations NASA selected as a James Webb Space Telescope launch party site — a big win for the location. The JWST launches into orbit on Dec. 18 and is an orbiting infrared observatory.
"We're really excited for that," Waldman said. "First of all, it fits perfectly with the programs we're doing with the Harvard-Smithsonian and that piece. So, we'll actually be preparing for the space telescope launch and preparing the students through this Harvard-Smithsonian project that we're doing with them in the schools. We're also having a launch party, and we're trying to connect with as many students, adults, anyone that is interested to think about the universe, what's out there and how space exploration is bringing us forward."
The Discovery Center also started a discussion session last year only for adults set in a casual environment. Waldman said the sessions were a success and a way to provide adults with opportunities as well.
"And we actually invite scientists and other STEM professionals to talk to adults over coffee or a drink," she said. "So that is something that we wanted to extend because we've talked to a lot of adults that said, 'You're doing those amazing things for students. Can we do that too?' And so we started doing that."
As for students, Waldman found the increased science exposure is providing practical benefits for South Dakota's youth.
"You know the most interesting thing that happened while we were doing this is a lot of the students that are usually struggling in school and classes — the ones where teachers say, I'm not quite sure if they will do well or if a STEM career is for them or if they will be successful in life — those are the ones that really respond to that the most," Waldman said. "And that is something that is so amazing to see and really inspiring."