Dancing just part of Flea Market/Business Expo – Payson Roundup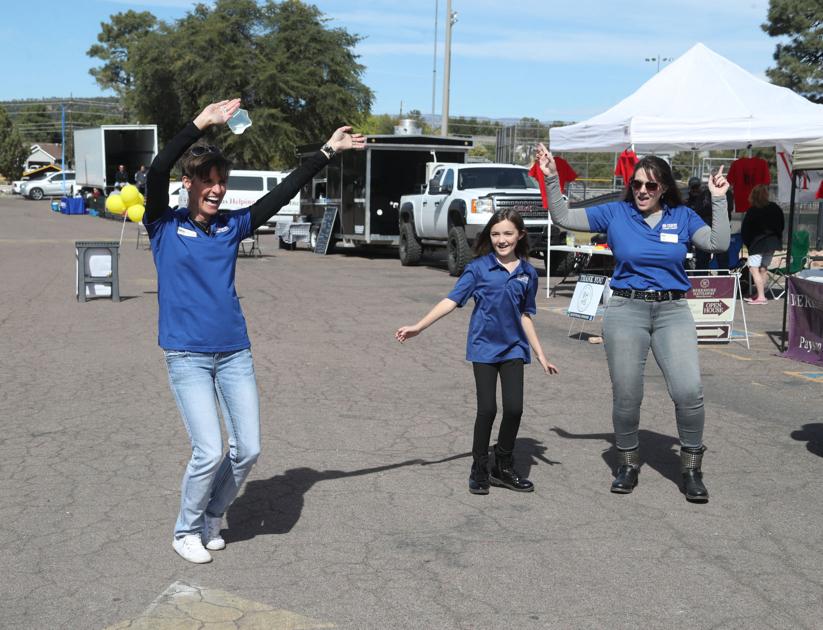 Maia Crespin took time out from her role running Saturday's Second Annual Rim Country Flea Market/Business Expo to join in the KRIM-FM dance contest.
But the Rim Country Regional Chamber of Commerce executive director only needed about three minutes to dance away with the championship in the Payson High School parking lot.
Seems Bruno Mars ranks high on her list of musical artists she can dance to.
"Just put on Bruno Mars and watch her dance," said KRIM-FM's Chris Higgins.
Crespin returned to her former job, although in a part-time modified role, a month ago after stepping down as executive director following the birth of her and husband Matt's son. Crespin jumped back into the role feet first after 16 months away by having a bit of fun and helping to make sure the contest, which featured no prize money, had enough contestants.
She said she used the time she's spent with her 2-year-old son to her advantage on the dance floor. Well, pavement.
"I've done some dancing at home with my son, of course," she said with a smile.
She was one of five or six who danced. And laughed. And had fun. They weren't alone.
Rim Country residents dropped by during the four-hour event to browse the various business tables and some played corn hole and some little ones trick-or-treated in their best Halloween costumes, finding out what goodies businesses handed out.
The solar panels covering the parking lot kept the sun off those at 20 business tables.
She talked about the reason for the flea market/expo.
"The No. 1 purpose is to support our businesses and (to give them an) opportunity to showcase what they have to offer to the community," Crespin said. "It's hard sometimes for a business to get in front of people and have that venue or opportunity to do so, so we want to make sure that we could provide that.
"I'm just very proud of these businesses that took the time to invest in themselves and it's a great opportunity for them to network with each other and build those relationships. That's what a lot of this is about: No. 1 getting in front of the community, but let's be honest, each business is a part of this community, they're also citizens, they're also spending money in this community and their businesses and nonprofits, so we're all here to support each other."
The event donates 50% of the $100 each of the businesses paid for booth space to the Payson High School DECA Club. Founded 75 years ago in 1946, a mission statement about the nonprofit at deca.org describes what DECA does as "It prepares emerging leaders and entrepreneurs for careers in marketing, finance, hospitality and management in high schools and colleges around the globe."
There are 3,200 high school and 210 college DECA chapters with 152,000 members in the U.S., Canada, Guam, Puerto Rico and Germany.
Crespin has ideas for next year.
"We do have a really neat lineup of events that we want to do for 2022," she said.
She encouraged chamber members and anyone to visit RimCountryChamber.com and click on the event calendar for all upcoming events. Members can add their upcoming events to the calendar for all to see.
Crespin hinted at a "really neat" April event at Mazatzal Hotel and Casino similar to this flea market/expo.
She also mentioned continuing a corn hole tournament and starting an eight-week chamber fun bowling league for networking on Jan. 14 for $15 per person, which includes shoe rental, a drink and "everything," and a 50/50 raffle with half to the winner and half into a season-long pool that will be split between all bowlers/teams at the end of the season.
"We're thinking about bingo, a lot of cool stuff," she said.
She encouraged folks to attend the chamber's public meeting at 4 p.m. on Wednesday, Nov. 10 at Payson Golf Club. "If you want to know what the chamber's up to and what we will be doing in 2022, we'd love to have you there," she said.