Budding designer invited to Saint Laurent's fashion show – Beloit Daily News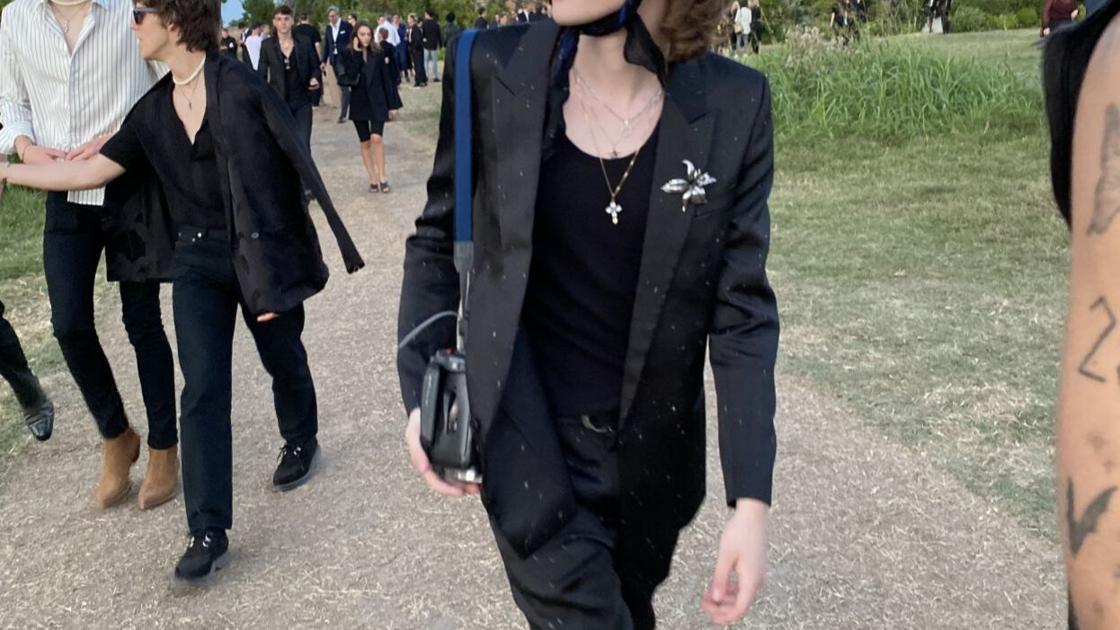 "You could fail 1,000 times, but the one time you win, it could change your life."
That's the wisdom Griffin Mark brings into his fashion design with his brand "Made in Failure."
"Everything comes from failure, even if it's indirect," he said.
Mark's approach and unique designs, landed him an invite to the Saint Laurent men's spring/summer collection fashion show on the runway in Venice, Italy. Mark received an all-expenses paid trip to the show and the opportunity to rub elbows with the world's top people in the high fashion world from July 12-15.
Mark, 18, is a Janesville Craig High School graduate and budding entrepreneur currently building his brand in Los Angeles. The son of Brian Mark Funeral Home owners Brian and Diane Mark, Mark is preparing for the release of two collections this year.
He has had success marketing himself via Tik Tok and other social media platforms, gathering millions of followers thanks to his creative and fashionable videos.
In fact, it was one of Mark's Tik Tok styling videos that caught the eye of Saint Laurent, one of the top fashion houses in Paris.
"It was a transition video where I was in a leather pants outfit," Mark said.
Mark was first sent items to wear and later was sent an invite to the show. The company flew him out first class with reservations at the St. Regis Venice Hotel.
At the show he met those on the Saint Laurent team along with other designers, CEOs in the fashion industry and fashion magazine editors.
Mark said one of his most moving moments for him was meeting American fashion designer Rick Owens. "He's the Michael Jordan of the high fashion world," Mark said.
Mark said h received a warm reception at the show when he spoke about his own clothing.
"They were interested and excited about me," he said. "A lot of people believe in Failure."
Mark said the best way to evolve over time is to not be scared of failure, to recognize one's failures and to grow from them.
"The world is a crazy place and it's not always safe and you have to be ready to fail. There's a negative connotation with failure and that's what I'm trying to change," he said.
Mark said he has slowly developed his sense of fashion, which he describes as unisex with a punk rock feel. His videos sometimes show him in a skirt or pearls as part of an effort to break gender norms in fashion.
After graduating high school in January, Mark headed out to Los Angeles where he devotes most of his time to fashion design.
On Aug. 27, Mark will release 100 belts as part of the Made in Failure line. With a nod to pop art, each belt is a different design.
Next month he will debut his first collection, "Off the Mark," which is based on the demise of pop culture, he said. He picked events and creative people from the 1960s to the early 2000s as his inspiration, including Mick Jagger, O.J. Simpson and Kurt Cobain.
His Cobain-inspired piece, for example, is a green striped mohair sweater based on a sweater Cobain often wore and which was seen in "American Horror Story."
"I took things from Kurt's life and style and put them together into one green striped mohair sweater to form a story," Mark said.
Mark also designed all-over print dress pants inspired by Studio 54.
"Studio 54 is one of the most influential clubs of all time and was big for the LGBT community," he said.
Other favorites include a John Lennon "War Is Over" cut-off T-shirt and an Andy Warhol inspired white T-shirt.
In 2022, Griffin will have four more collections ready to release.
"It's time to present what I've been working on all this time and show the people what Failure is. Failure is me, in a way," he said.
Griffin's next steps are a potential "Failure" tour through several Midwestern states where he would offer pop-up shops to expose kids to fashion.
Failure won't be stopping anytime soon.
"There's not a walk across the finish line. There is always a progression," Mark said. "Anything is possible, you just have to trust in Failure."
Mark can be found using Tik Tok and Instagram primarily under the handles @griffinspreminum and @shoutoutyahweh.