Beloit Black Wall Street encourages support for Black business – Beloit Daily News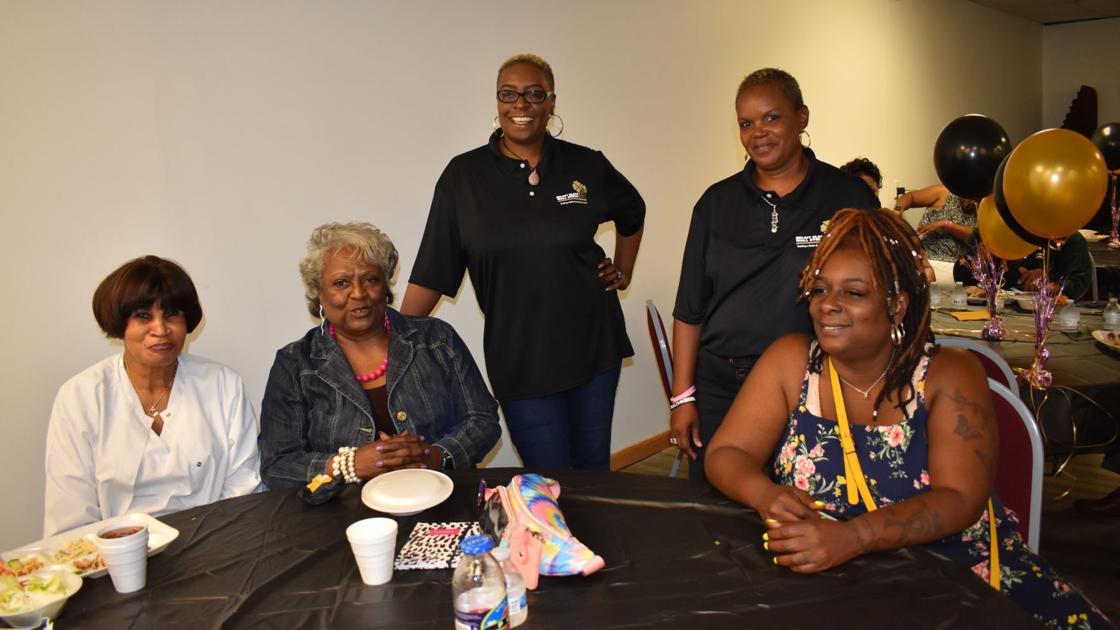 BELOIT — Those with Beloit Black Wall Street Inc. offered a way for the Black community in Beloit and South Beloit to increase employment, home and business ownership and health by offering residents the opportunity to become members or shareholders in the community-owned company.
"We have to start creating and building things for ourselves. If we want to uplift and grow, we have to keep our dollars here," said entrepreneur Tracy Dumas.
Beloit Black Wall Street's offerings were shared Sunday evening at a Black town hall meeting at The W.B. Kennedy Lodge.
The meeting was hosted by Rising Queens Inc., Center for Truth and Healing and Beloit Black Wall Street Inc. Entrepreneurs Shanta Lana Hereford and Dumas presented. The evening included a meal for guests as well as an appearance and a call to action by State Rep. Shelia Stubbs, D-Madison.
Dumas and Hereford explained how Beloit Black Wall Street is a for-profit purpose-driven corporation owned by community shareholders which will purchase property, invest in Black entrepreneurs and businesses as well as provide programming to youth and seniors. Community development also will include a focus on helping Blacks with higher education, health and fitness, job skills training and employment.
Anyone can be a member to Beloit Black Wall Street for free and receive a monthly newsletter and get upcoming event notifications. Paid memberships are $5 for individuals and $10 for families per year. The basic membership will give members access to a Black newspaper, access to all of Beloit Black Wall Street's programs and services such as youth, senior and fitness activities in addition to information on its investment opportunities.
"The fees we are collecting will keep these programs free," Hereford said.
The Black Wall Street Platinum Black card membership is $25 per person to get a discount on black business services, a free digital copy of the newspaper, the ability to post and search for job opportunities and more.
On Aug. 15 an online Zoom meeting will be presented for members-only where the first investment offerings will be discussed. To learn more people can visit beloitblackwallstreet.com. Funds will be raised via Crowd WallStreet, a crowdfunding platform.
Once the funds are raised Beloit Black Wall Street plans to invest in the following: 40% real estate; 20% business acquisition; 15% black entrepreneurship 15% franchises; and 10% community fund.
Hereford explained Beloit Black Wall Street will buy and flip properties, open Black-owned businesses in town including franchises and include a community fund for members who may be in financial hardship.
Other plans are as follows: Simply Social Seniors will begin this month for those age 55 and over; The Y Project! will help youth explore various careers, arts and recreation; The Beloit Black Voice Podcast and Newspaper will launch; and free community fitness classes will be offered for Beloit Black Wall Street members. Services will also include education assistance, free workshops, an entrepreneurship empowerment series and a ask-a-Black-nurse program.
Hereford said when it comes to businesses, Black people hire other Blacks and supporting Black businesses will be key to helping the community
During a question and answer session with the crowd, there was discussion that churches can do more to empower the Black community as they have non-profit status, classrooms, outside space and Dumas said more Blacks should be on city council to provide better representation.
"Beloit deserves to do better," Stubbs said. "The time for change is now. Beloit Black Wall Street will be an integral part of change."
Stubbs said she was committed and encouraged the crowd to get involved.
"Our community is not suffering from a lack of talent, we are suffering from a lack of opportunities," Stubbs said.
When Hereford came back to Beloit, she said she saw a lot of development going on and heard plans for the casino, but didn't see much for Blacks and saw Beloit had a lack of affordable housing.
Dumas said when she returned to Beloit, she said the the main thing that looked good in Beloit was its downtown. She told those in the room their tax dollars are helping to invest in the downtown which includes restaurants where she noted some members of the community can't afford to eat.