Back to Sports: Kansas men's basketball, a lot has happened since March – The University Daily Kansan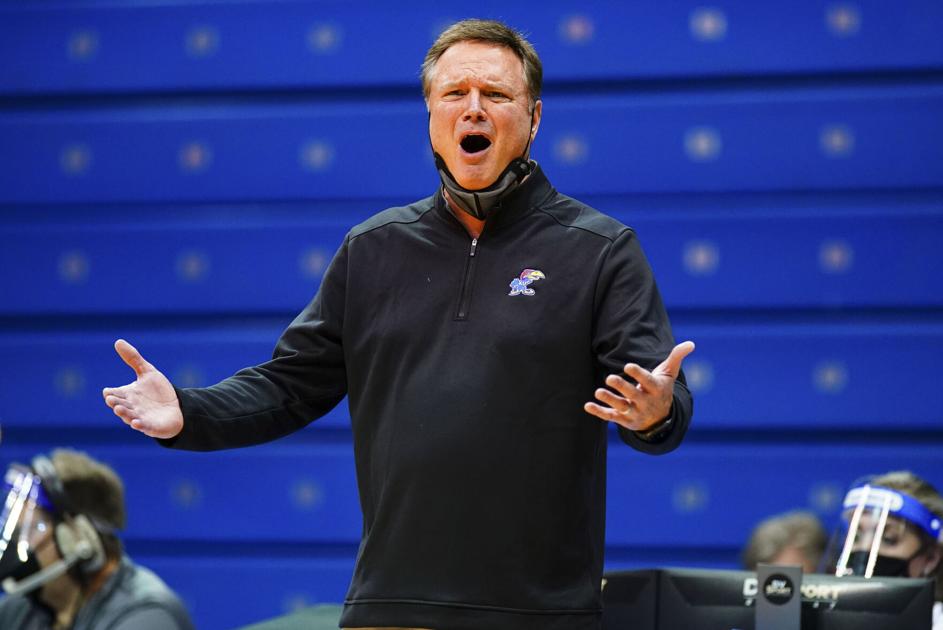 On Monday, we turned our attention to everything about Kansas football. Today, Tuesday, we focus on what has happened in the world of Kansas basketball this off-season.
New staff, but familiar faces.
It had not even been 24-hours after the national championship game between Gonzaga and Baylor before head coach Bill Self announced his then-assistant coach Jerrance Howard was departing Kansas.
Howard joined up with former Texas Tech head coach Chris Beard at Texas who was hired in Austin five days prior. During his eight seasons with the Jayhawks, Howard was a part of six Big 12 regular-season championships, two Big 12 tournament titles, three Elite Eight's and one Final Four, according to Kansas Athletics.
"I want to thank Jerrance for all of his hard work and dedication to Kansas men's basketball over the past eight years," Self told KU Athletics. "I was fortunate to coach him at Illinois and loved the opportunity we had to coach together here at KU.
Former Kansas guard, Jeremy Case, who won a national title under Self in 2008, linked up with the coaching staff in 2016 as the team's video coordinator. After five years in that role and with the exit of Howard, it was only fitting that Case stayed in-house and assumed the vacant assistant coach spot. Case served in an interim role since April, before being fully promoted in August.
"After serving in an interim role, I'm ready to continue building long-term and sustained success within the KU basketball program," Case told Kansas Athletics. "I couldn't be more appreciative of the opportunity."
And as of August 19, the newest addition joined the team, former Jayhawk guard Brady Morningstar. A native of Lawrence, Morningstar is back in his hometown since graduating in 2010, he serves as the video coordinator.
"We're all excited to bring Brady back to KU to be a part of our coaching staff," Self told KU Athletics. "Brady was a very good player here and was a great teammate. I can't wait to add his knowledge, feel and personality to our mix."
Transfers
Four now-Jayhawks entered the transfer portal and committed to the University of Kansas this off-season: super-senior guard Jalen Coleman-Lands (Iowa State), super-senior forward Cam Martin (Missouri Southern State), super-senior guard Remy Martin (Arizona State) and sophomore guard Joseph Yesufu (Drake).
This comes after the team subsequently lost Tristan Enaruna, Tyon Grant-Foster, Latrell Jossell, Gethro Muscadin and Bryce Thompson to the transfer portal, respectively.
Most notably, the Martin's, Cam and Remy, united with Kansas.
Cam is a two-time Division 2 All-American coming from Missouri Southern State and from head coach Jeff Boeschee who played for the Jayhawks from 1998-2002 during the Roy Williams era.
The 6-foot-9, 240-pound forward, averaged 25 points and nine rebounds with the Lion's last season. He also made 58% of his shots from the field, in addition to draining 45% of his three-point attempts, according to KU Athletics.
The Yukon, Oklahoma native uses his size to compete in the paint and utilizes mobility to stretch the floor and knock down shots. He is also a great rebounder and shot alterer, as the numbers confirm.
Remy is a three-time All-Pac 12 selection, earning second-team honors as a sophomore and first-team honors as a junior and senior, according to KU Athletics. In 2021, he posted a conference-best, four 30-point appearances.
The Burbank, California native uses his small stature to drive the ball downhill and get to the rim, while still being able to shake his defender and create shots outside of the paint. After entering the portal, Remy also entered the NBA Draft Combine, but similar to senior guard Ochai Agbaji and redshirt sophomore forward Jalen Wilson, the guard rejoined the team.
Aforementioned, Agbaji and Wilson are both returning to Kansas to complete Self's roster. As a junior, Agbaji averaged 14.1 points per game and 3.7 rebounds while Wilson averaged just shy of a double-double, according to KU Athletics.
"Jalen had a terrific freshman year for us, averaging 12 points and leading us with eight rebounds per game, and we look forward to an even more productive [redshirt] sophomore campaign," Self said.
Recruiting for the Class of 2022
As for recruiting, KU signed Wichita's Gradey Dick in early March while signing Zuby Ejiofor and MJ Rice in July and August. The trio is a part of the class of 2022.
Dick is a senior at Sunrise Christian Academy in Bel Aire, Kansas. Last winter and spring, he helped lead his team to a national ranking, highlighted by a win over No. 1 Montverde Academy. Most recently, Dick won a gold medal for Team USA at the FIBA 3×3 U18 World Championships Sunday.
What can we say… gold just looks best on us 😏🇺🇸 pic.twitter.com/FisLjlsKfu

— USA Basketball 3×3 (@usab3x3) August 30, 2021
Ejiofor committed to Kansas in July after considering several other Big 12 conference foes, in addition to Arkansas, Georgia Tech and Houston. The four-star power forward concluded his junior campaign, averaging 19.2 points per game and 11.6 rebounds per game, according to Max Preps.
#COMMITTED #KU 💙❤️ pic.twitter.com/qaZ9W86Fde

— Zuby Ejiofor (@kingzub18) July 2, 2021
Rice inked his name on August 10 as the latest Kansas commit to sign his name to the class of 2022. He is also the highest-ranked recruit since 2018, which was former Kansas guard, and now New York Knick, Quentin Grimes. The Durham, North Carolina native will be a senior at Prolific Prep after transferring from Oak Hill Academy — home of forward, David McCormack.
Kansas Athletics announced the in-person return of Late Night in the Phog on Oct. 1 inside Allen Fieldhouse.