Animals, events, entertainment – The Daily Standard
Friday, August 13th, 2021
The Mercer County Fair is back ­- in full
By Leslie Gartrell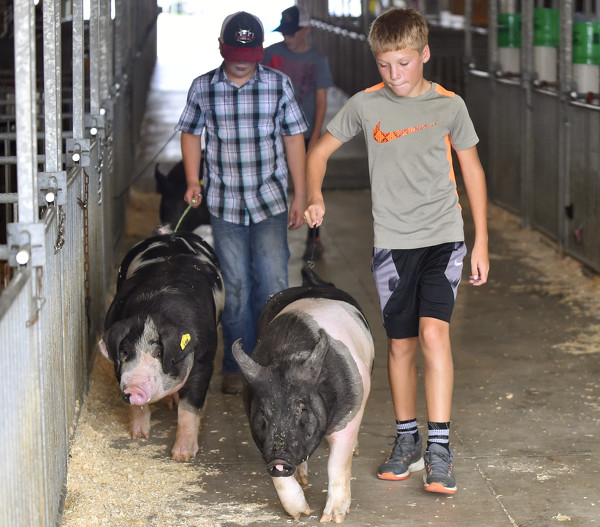 CELINA – Fair manager Cara Muhlenkamp is excited for community members to enjoy a full-fledged Mercer County Fair with new entertainment and mainstay events alike.
"We're excited to be back at it," Muhlenkamp said Thursday as organizers put the finishing touches on the fair that starts today. "It's great to have the fair back as a whole."
Organizers last year were ready to put on a traditional fair when COVID-19 forced them to reduce the event to food and junior fair events. Rides, games and grandstand events were canceled just days before the fair was set to start after Ohio Gov. Mike DeWine issued an order limiting fairs to livestock competitions and 4-H events.
Muhlenkamp said she's hoping to see the community come out for all the fun they missed last year.
"We have lots of new entertainment this year that we're excited about having," she said. "It's important for us to have a wide variety of entertainment for the public to enjoy."
This year's fair theme is Country Nights, Carnival Lights. Muhlenkamp highlighted several new attractions this year, including the Chicago-based Honey Bear Dancers, a family-oriented show featuring singing and dancing that will have multiple performances each day of the fair today through Wednesday.
Also new this year is Tumbleweed Crossing, a comedic wild west gunfight stunt show. Performers travel with an authentic wild west town set and will interact with audience members during their multiple shows today through Wednesday.
For those who enjoy circus theatrics, Flippin' Steampunk Aerial and Acrobatic Spectacular will put on energetic shows every day of the fair. The act combines mechanical innovation and flipping artistry, acrobats, comedians and aerialists for a one-of-a-kind exhibition, according to the group's website.
For animal lovers, Muhlenkamp said she was happy to see Dock Dogs returning to the fair this year. The event combines dogs and water. It was born in 2000 to create a nationally recognized competitive sport based on rules and precedents in track and field competitions, according to the company's website.
Canines compete in three different sporting disciplines: Big Air, considered the long jump of canine aquatics; extreme vertical, similar to a high jump; and speed retrieve, a time sport involving a combination of running, jumping, swimming and retrieving. Dock Dogs will perform today through Sunday.
Jimmy of the Gator Boys returns to perform from 2-9 p.m. each day of the fair. The show will feature reptiles and other exotic creatures from near and far, Muhlenkamp said.
Concerts at the grand stand are always a classic, and Muhlenkamp said this year's fair is no different.
Tonight's grand stand concert with Sawyer Brown and opener BlackHawk has been sold out for weeks, she said, and Saturday's Christian concert with Casting Crowns is nearly sold out as well.
Fairgoers also will see strolling piano performances Sunday through Wednesday at the fairgrounds, with three hours of music each day.
"We're excited to have everyone come out and enjoy the next seven days," Muhlenkamp said.
Some of today's performances and acts include,
• Dock Dogs Big Air performances, 10 a.m., noon, 2 p.m., 4 p.m. and 6 p.m.
• Jimmy of the Gator Boys, 2-9 p.m.
• Tumbleweed Crossing, 6:30 p.m. and 8:15 p.m.
• Honey Bear Dancers kids dance workshop, 7 p.m., with variety shows at 4 p.m. and 8:30 p.m.